Hey there! It is time for another diet review from an Intuitive Eating Registered Dietitian. Today we are delving into a common question I get via Instagram: which is better: Noom vs. MyFitnessPal.
Friends – I just love that you all continue to look for the ways to feel your best, to honor your health and work towards nutrition goals. I'd love to help you be as informed as possible and find the best solutions for long lasting health.
Unfortunately, that is not likely to happen with any diet app, including Noom or MyFitnessPal.
Let's dive into the details about what Noom and MyFitnessPal are, how they work and what pros and cons we have for each of them. And of course, we'll wrap up with my recommendations about both apps, from an Intuitive Eating perspective.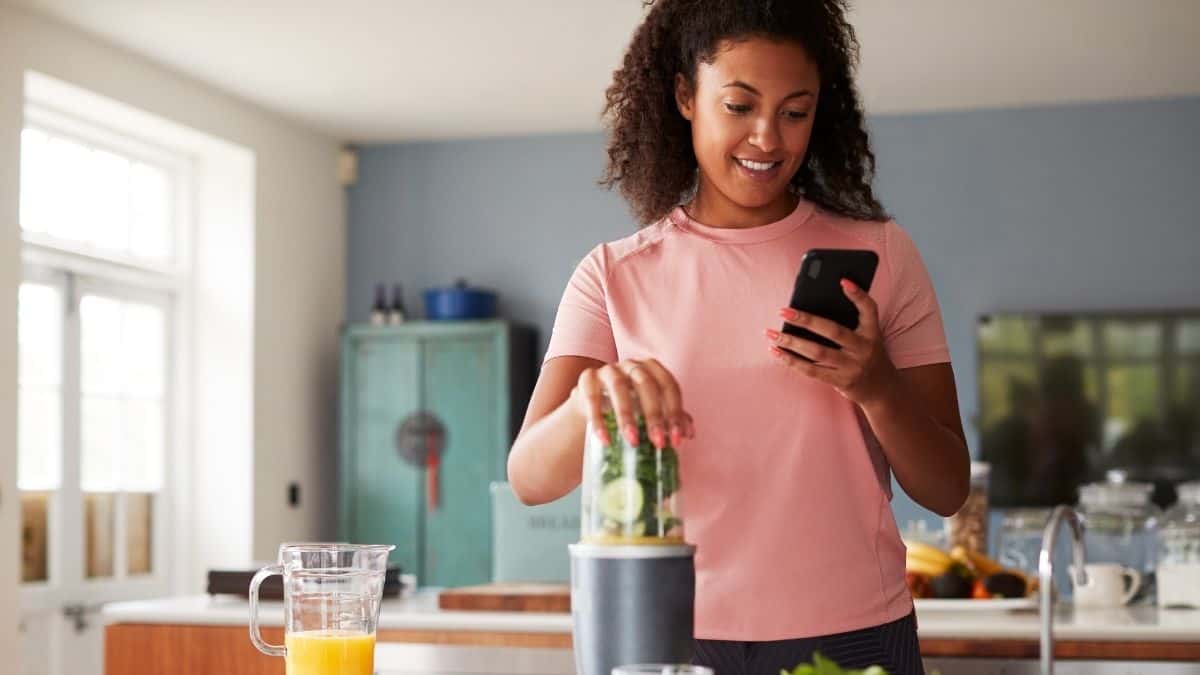 What is Noom?
Is Noom just calorie counting? Some folks call Noom the modern-day Weight Watchers…and the last diet plan you'll ever need.
And also anti-diet…with a calorie budget? Ugh. What gives?
Noom uses a calorie budget, but you spend it based on a stoplight system, kind of like volumetrics. The idea is that eating fresh fruits and vegetables are relatively larger in your belly – increasing satiety (at least in the short term) – vs. something like a higher fat food that provides more calories for how much space it occupies in your belly.
Another way to look at it? A handful of grapes and a tablespoon of raisins might have the same amount of calories, but the grapes might signal your fullness sooner than the raisins simply because they take up more space in your belly.
Note: While this might sound like a great way to "trick" your stomach into thinking it's full on lower calories it can backfire. Our bodies are smart cookies and when we they realise "Oh wow! That's just a ton of volume, not energy." our hunger is going to come in H-O-T, cause us to feel ravenously hungry, and likely lead us to eating past fullness in that gotta-get-it-all-now kinda way.
What is MyFitnessPal
MyFitnessPal is a more basic app that is quite popular. You can use the app to track foods eaten, create a calorie goal, track daily weights (and even photos) as well as physical activity.
MyFitnessPal allows you to enter restaurant foods as well as adding links to create your own recipes with approximate calorie guidelines.
It is pretty simple to use, but it doesn't provide much guidance beyond the calorie goals (which are usually WAY too low) and recommendations around specific nutrients, such as sodium and fiber.
Is Noom a 1200 calorie diet?
Not exactly. Noom makes their calorie recommendations based on your factors like height, weight and activity level as well as your goal weight. But then it focuses on low-calorie foods. It uses a stoplight system to rank foods:
Green: preferred, low-calorie foods such as fresh fruits and vegetables
Yellow: middle of the road foods calorie-wise such as avocado and salmon
Red: use with mindfulness, higher-calorie foods such as olive oil and peanut butter, as well as burgers and chips.
Some people will be given a 1,200 calorie recommendation, based on those metrics and goals, but not everyone. I'll talk about this in a bit, but I was given a 1,200 calorie recommendation… which is MIND BOGGLING!
Is Noom just calorie counting?
No. Noom involves more than just calorie counting, which is one thing that makes it different from competitive products such as MyFitnessPal, which is really just a calorie and activity tracker.
One thing that makes Noom different is that it does incorporate healthful behaviors, which I appreciate.
But at the end of the day, there are enough aspects of Noom that make it feel like another diet culture trap. (New to the term diet culture? Check out this post to learn what in the heck I'm talking about: What is Diet Culture).
Do you have to track on Noom?
The expectation is that you will be tracking consistently, but not necessarily every single meal and snack of every single day. I do like that Noom builds in flexibility, without shame or scolding for not tracking.
This helps it to feel a bit more realistic than some of the competition.
Pros of Noom
Most things in nutrition are nuanced; and with Noom, there are pros and cons. My perspective is as an Intuitive Eating dietitian and I don't advocate for diets. And while Noom can choose to market itself as "non-diet", I'm allowed to respectfully disagree. It's absolutely a diet.
But, there are some features of the program that are beneficial. Let's explore those first.
Noom encourages healthful behaviors
I do think that Noom is a great step in the right direction, that is to say, further away from diet culture. But I won't go so far as to say that Noom is non-diet because it encourages food restrictions. Gorgeous, don't be fooled: it is a diet.
Red flagged an unhealthy weight loss goal
As I was experimenting with the app, I did a little test to see what would happen…I entered a goal weight that was pretty low for my height just to see what would happen. I was glad to notice that the app shot up a red-flag warning, saying that my goal might be too low to be healthy. This is good!
Teaches volumetrics
I do like that Noom introduces the idea of volumetrics. I don't love how they choose to teach this with the stoplight pattern. With this teaching method – advocating for weight loss above all else – volumetrics can lead to hijacking the choice that is actually the best food choice for your body in a given moment.
Volumetrics is helpful information to better understand how foods make you feel shortly after eating (i.e. – how filling is the food or meal right away) as well as how long you feel full (i.e. – do the foods have staying power?). But….following volumetrics as your eating plan is actually just another diet.
While common sense lets us know that eating a large bowl of plain raw veggies (a Noom green food) is going to feel different in your belly than a large bowl of potato chips (a Noom red food), categorizing them in this way can lead to shame if you ever choose to eat chips.
And that is BS.
Intuitive Eating empowers us to learn to eat in a way that feels good, both mentally and physically, without a side of shame.
For example, fresh fruits and veggies are healthy foods: they provide hydration, vitamins, minerals, fiber, and so on. But what if you're about to go on a long run? Dried fruit, a red food in Noom, might actually feel better as fuel, because you'll be able to enjoy your run without feeling heavy in your belly.
Cons of Noom
So while I did list some "pros" let's be clear, overall I am NOT a fan of Noom, or anything like it that promotes dieting behavior, but let's be honest, I am not a fan of any diet. Here are a few other diet reviews of mine that you can check out:
While Noom can be considered to be less diet-like than something like Weight Watchers, it is still promoting dieting behaviors. Let's explore why, as an Intuitive Eating Dietitian, Noom is not something that I'll be recommending to my clients or using personally.
The calorie budget was far too low
While I don't actually track how many calories I eat on a daily basis, nor do I advocate doing so, I know that the amounts of foods permitted in the daily budget for Noom was far too low for my own energy needs (and most people… unless you're a toddler!).
And while the Noom app allows for flexibility, at the end of the day, we all want to be "good" and to meet our goals. Even though the recommended amount of calories was far too low, I might be tempted to follow them as closely as possible, even though my body would surely be giving me different messages. Like, "feed me!"
Now, I have enough trust with my body to know how much food I need throughout the day to support my energy and focus. But back when I was in the midst of my own disordered eating and using MyFitnessPal, I trusted the app more than myself. Trying to meet the unrealistic expectations of the app felt futile and made me feel like a failure.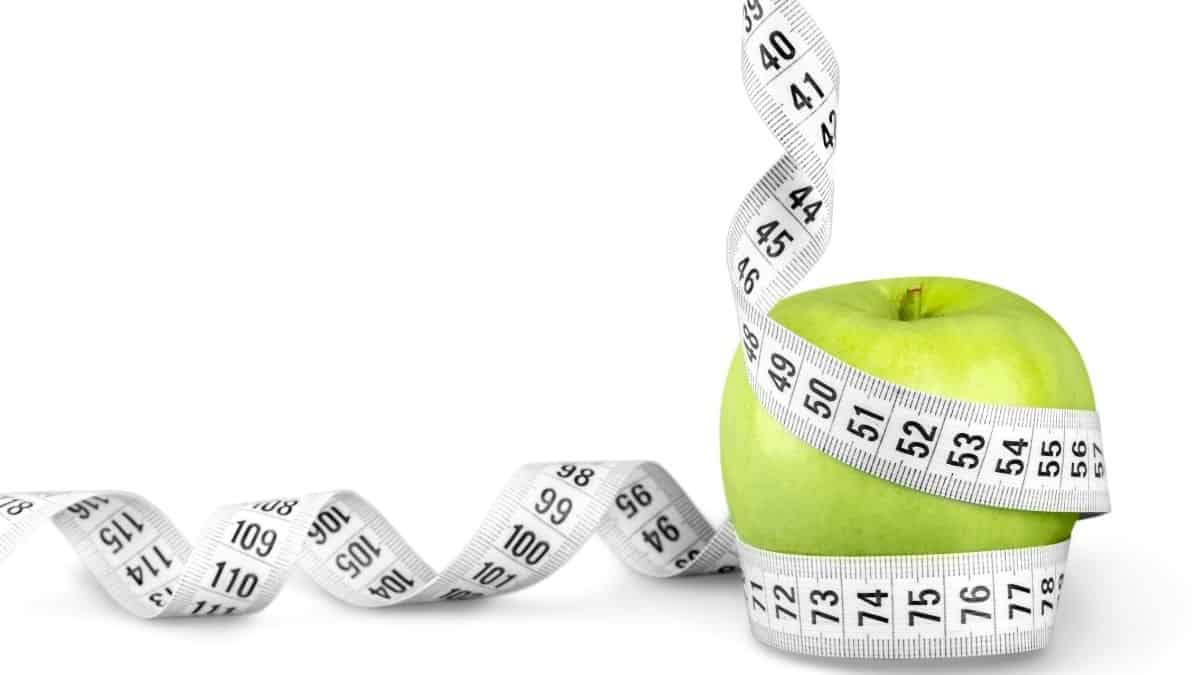 Noom coaches are (mostly) not RDs
Who are the nutrition experts? Registered Dietitians, like my colleagues and I.
Becoming a registered dietitian requires significant training (hello, bachelor's degree plus internship plus national board exam and then continuing education every dang year). And to be effective, helpful and decrease the chance of causing harm, it is important to be an expert.
It is kind of funny that everyone seems to think that because they eat, or because they have taken a short course online about nutrition, they're an expert and qualified to help others. I'll just say that even though I brush my teeth and floss on the daily, I'm not going to be providing feedback on your gum health or doing any drilling anytime soon.
They recommend daily weight checks
It is completely normal for your weight to fluctuate on a daily basis, even if you've found your set point weight. But by weighing yourself with the intention of weight loss, you can really set yourself up for a mental health disaster. And while Noom does acknowledge that fluctuations are expected, they still recommend regular weight checks. I sure as heck don't.
And while daily weights are not going to make everyone feel obsessive about the number, there is a risk that it might be you. I don't recommend it.
We have a recommended weight for each of our own unique bodies. And while you might expect me to whip out a calculator and tell you what yours is, I can't: that is wisdom that only your body has. This is called your set point weight and is the weight that is easy to maintain and that you feel mentally and physically good at. More on the set point weight here: Set Point Weight Theory: What It Is & How To Find It.
Using weight as a measure of health
I know that this comes as counter culture in this modern day and age and I am not going to apologize for that. But the better we get at doing research, the better we understand the nuances of what the results really mean.
For far too long, we have assumed that thinness = health and friend, that just isn't always the case. Health is far more complex than an arbitrary number on the scale (and don't even get me started on BMI). So for an app to be focused so much on weight loss as the goal, I'm not on board.
Weight loss is short term
Weight loss can happen. And for some people, this is part of them finding their personal set point. And if I were to follow Noom's guidance, I also probably would have lost weight, at least for a bit, because they had me at a big calorie deficit.
Noom has published research of their app, which I truly appreciate. But keep in mind that for most of their studies, the results are less than a year. A lot can happen after the initial weight loss and most research about intentional dieting does not show lasting results.
But long term? I'm not going to be able to stick to these restrictions forever and eventually I'm going to give it up. And then what? The weight is going to change again. Yoyo dieting harms your metabolism and truly is not healthy for your mind or body.
Is Noom worth it?
I do not think that Noom is worth it. While they do have positive aspects of their program, there are also many risks of causing harm and leaning into the diet culture that compromises your own relationship with food and eating.
I recommend Intuitive Eating and honoring your own body's needs, hunger and fullness cues and having a beautiful relationship with yourself.
Are you a YouTube gal? Check out my YouTube video all about Noom (including my plot twist of getting kicked out).
Which is better, Noom or MyFitnessPal?
Overall, Noom offers more opportunities to learn and implement behavior changes than MyFitnessPal. However, at the end of the day, either tool can promote less healthy relationships with food and eating.
So which do I recommend? Neither!
I recommend using tools that promote long-term healthful relationships with food and eating. Let's walk through those now.
Do you recommend any other apps?
One tool that I do recommend is the Peace With Food app, available for free in the Apple app store. This app helped me tune into hunger and fullness as well as my mindfulness around eating.
What tools do you recommend instead?
I recommend taking a good look at what Intuitive Eating is and how that can promote long-term body positivity, a healthful relationship with food and eating and more diverse eating habits.
This guide is a great place to start getting the lay of the land as you bid diet culture farewell: What Is Intuitive Eating? A Beginner's Guide.
Next, I recommend you practice using the hunger scale. This is something that we get better at with practice (ain't that just how life goes?) and with practice and building that healthy relationship with your body, this will get easier: The Right Way To Use A Hunger-Fullness Scale.
I also recommend using a food and mood journal that allows each of us to track and understand how foods make us feel.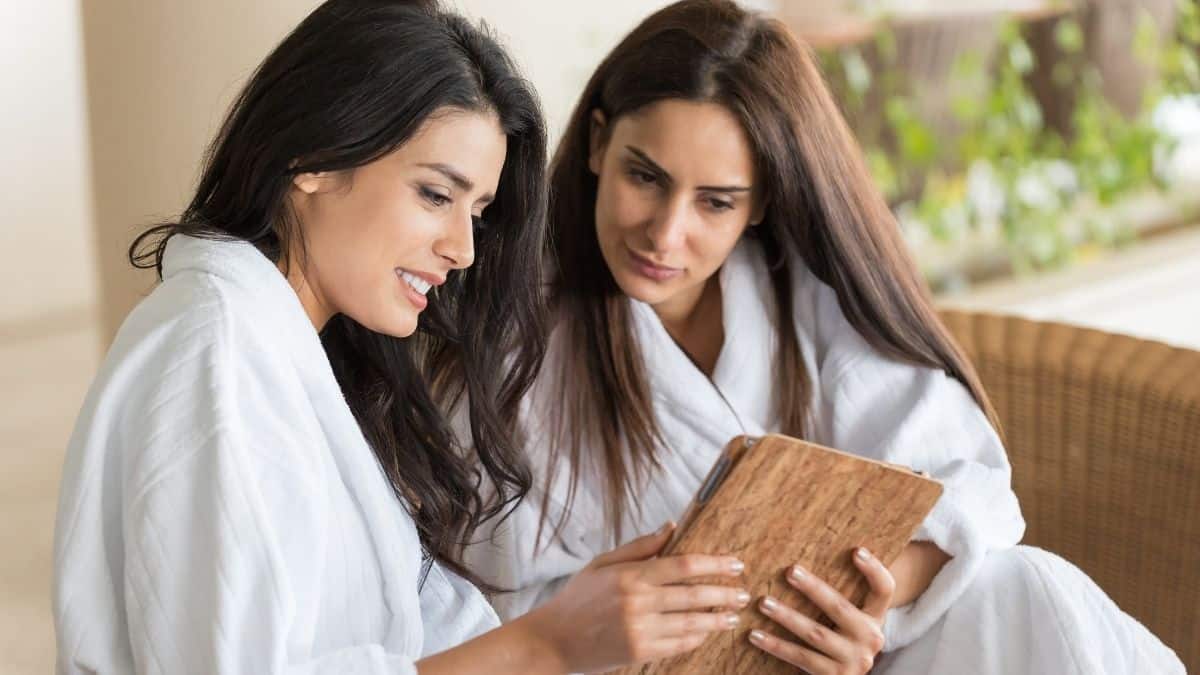 Key takeaways: Noom vs. MyFitnessPal
As an Intuitive Eating dietitian, I stear far clear of anything that promotes an unhealthy relationship with food or hijacks your permission to tune into your own body. No app, equation or algorithm can know you better than you.
And while there are features of Noom that I like better than some of the competition, such as the flexibility and the behavior changes that are promoted, it doesn't make it a tool that I would actually recommend to my clients or use myself.
What I do recommend is joining a community that is body-positive and promotes Intuitive Eating. And if you're ready to ditch fad diets that don't work and join a supportive group, I invite you to check out The SociEATy intuitive eating membership, your community to learn to eat intuitively. That can include all of the green, yellow and red foods you like, because with Intuitive Eating, you always have permission to eat any food at any time. 
OTHER POSTS YOU MIGHT LIKE
XOXO
-Colleen