Intuitive eating and food freedom is super trendy right now thanks to social media. However, there are SO many misconceptions surrounding it since you can only fit so much into one tiny little square and caption on Instagram. In this blog post we'll cut to the chase and answer once and for all if you can truly use intuitive eating for weight loss or not.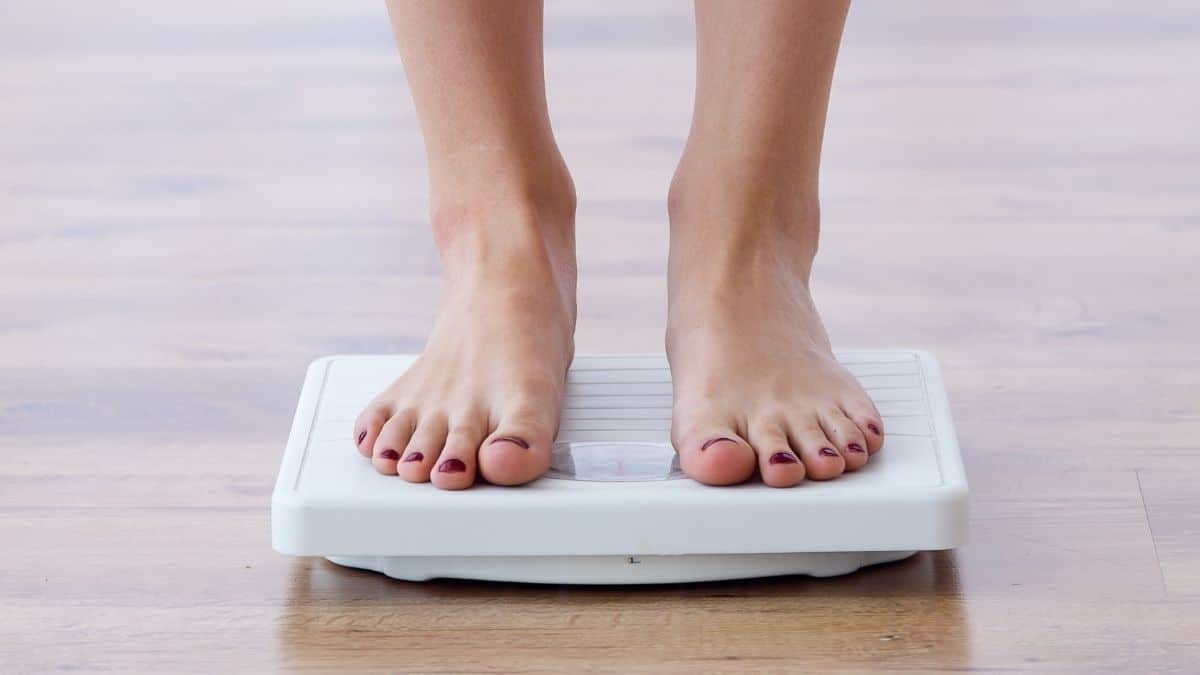 Can I Lose Weight With Intuitive Eating?
To answer your question bluntly: yes. Intuitive eating weight loss can happen. However, you could also gain weight or simply maintain your weight. What happens to your body depends on your "starting point" and it's relation to something called your set point weight.
To sum it up: a set point weight is the weight that your body wants to be. The weight where it functions optimally and feels it's best mentally & physically. (I have an entire blog post on the set point weight theory that you can dive into for more.)
Some people are below their set weight (maybe they have a history of restricting food and aren't giving their body enough), some may be at their set weight, and some may be above their set weight (maybe they experience the restrict-binge cycle or emotional eating). So, if someone is above their set weight, sure, they may end up losing weight overall. But that's not the GOAL. And we can't know what the set weight number is exactly. It gets especially confusing when you've been dieting for so long and have been so far removed from eating intuitively. It's a leap of faith, I get it. And that can be scary!
With that being said I do want to make it clear that even if you're above your set weight that doesn't mean you start to lose weight right off the bat. One study found that those who were put on a diet initially gained weight from their pre-starvation (i.e. dieting) states, however after having no food rules (eating intuitively) they came within 5% of their set point weights (the weights they were at before ever dieting). I talk about this more in my post on what to expect with intuitive eating weight gain.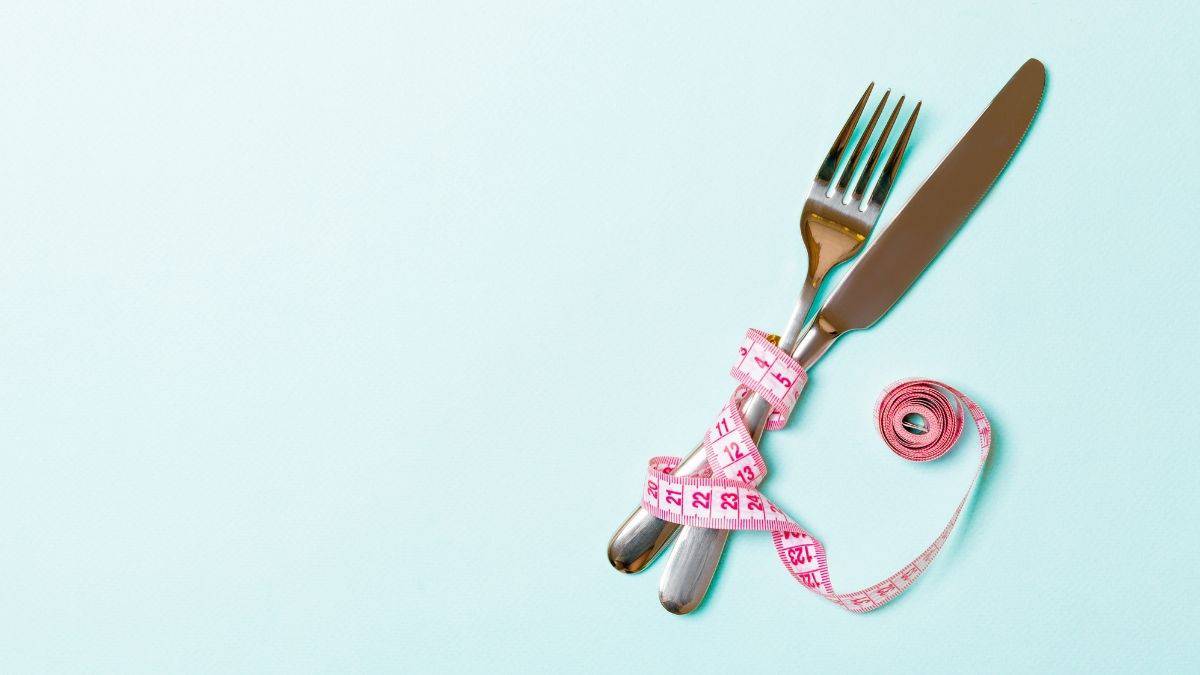 Can You Use Intuitive Eating FOR Weight Loss?
I'll get right to the point here: no. Using intuitive eating with weight loss pursuits as the goal goes against, well, intuition. If you're telling your body "You need to be smaller" that's not listening to it and finding it's true set weight, now is it?
One of the principles of intuitive eating is to ditch diet culture. It's actually the very first principle. So, if someone is saying they're using intuitive eating to intentionally lose weight… they're not doing intuitive eating. Sure, they may be adapting some of the principles like principle two of honoring your hunger or principle six of feeling your fullness but they're still using it as a diet. It's not intuitive eating.
Should I Diet Before Trying Intuitive Eating?
Absolutely not! What we know is that diets don't work. A study showed that this "weight management" (i.e. dieting) had a success rate as little as 6%, over a 15 year follow-up period. When we mess with our body's management of our weight, we may be inclining our bodies to regain + gain back any weight we do lose from these set points (even so much as 145% of our original fat mass!).
I have more on the science behind why you shouldn't diet in my blog post on 12 reasons NOT to diet.
I'll be honest with you, dieting before starting to try intuitive eating will likely increase your set weight and/or just cause you to miss out on living a life of food freedom even longer. If I could get back the years that I spent following food rules and missing out on life's experiences (i.e. date night, trips to the ice cream shop, birthday cake, binge watching Netflix in bed on a Saturday, etc) I would. In a heartbeat.
Saying you'll wait until you're thinner or you've reached your "goal weight" is an oxymoron. Sounds harsh, I know, but it's true.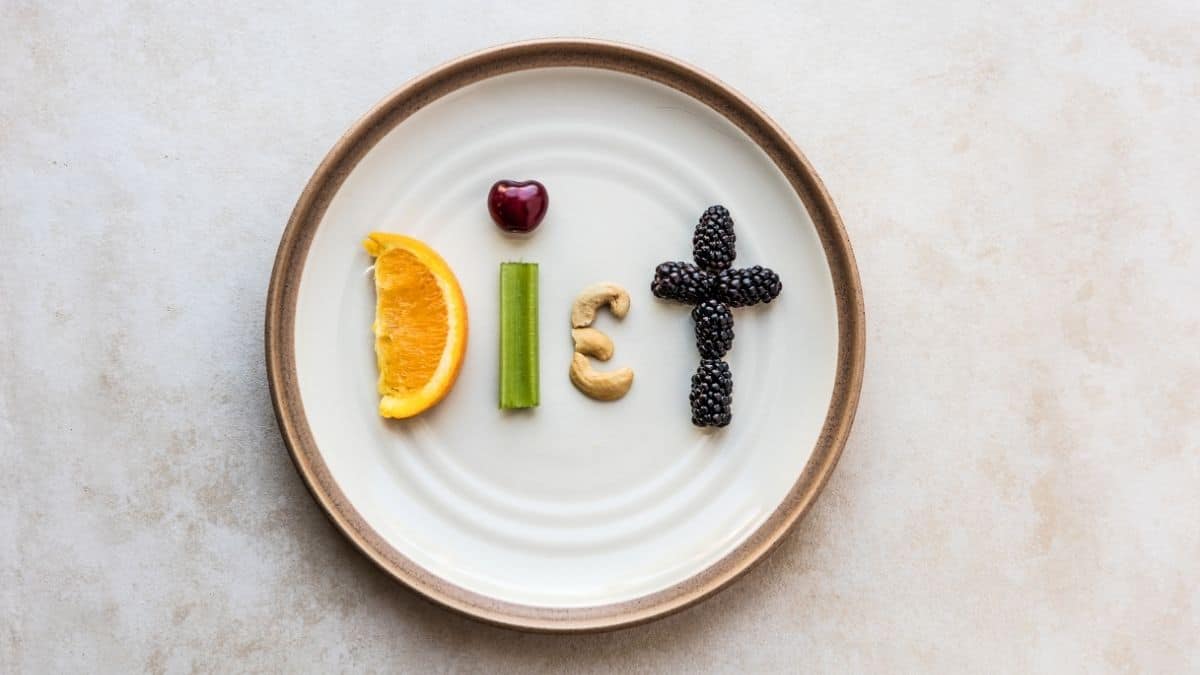 But What If I NEED To Lose Weight?
Maybe you were told by a doctor or other healthcare professional that if you lost weight you'd be healthier. Well…. That's old school medicine. More and more studies have shown us that health promoting behaviors improve our health status regardless of what happens to our weight when we implement them.
Another study compared two types of people in larger bodies: those who have a history of dieting and those who do not. The study found that those who did NOT have a history of dieting were healthier than those who had a history.
Let's put it this way: Just because two things are correlated does not mean one causes the other. I once heard the analogy that hair loss and heart disease risk were correlated, meaning that found that balding was common in men with heart disease. But, you wouldn't give Rogaine to try to fix someone's heart disease, would you? Same goes for weight loss and health. Just because someone has a higher weight and certain health issues it doesn't mean that the weight CAUSED the health issues. Make sense?
Long story short: It's not the weight that is making you healthy or unhealthy. It's the health promoting behaviors. With intuitive eating health promoting behaviors actually play a huge role!
Checkout my blog post on health at every size for more info on this!
What Is The Point Of Intuitive Eating Then?
So, if setting out to try intuitive eating with weight loss as a goal isn't what intuitive eating really is…what IS?! The "goal" of intuitive eating is to improve your overall health and wellness. It's to feel good mentally and physically. It's to stop striving for an unrealistic body type and learning to treat the body you do have with respect and appreciation- no matter what it looks like. It's about making peace with food and learning how to listen to your body to guide what and how much to eat. It's about LIVING again!
And if you just snickered and said "Colleen… all I'd WANT to eat is cake!" think again. Sure, you might want more of those foods at first, totally normal, but over time your body started to tell you "Hey, gorgeous? Eating cake all day doesn't feel super great. Give me an apple, would ya?"
I know it sounds absolutely ridiculous, like it would NEVER happen to you. Trust me though, it will. It's how the human body is designed… but you have to listen to it for it to happen! I have a blog post on this that discusses more of what to expect when you stop dieting.
Can I Still Be Healthy With Intuitive Eating?
Abso-freaking-lutely! I'm a Registered Dietitian. I'm a healthcare professional. I WANT you to be your healthiest, happiest self! And I want that for myself, too! Here is how I explain intuitive eating in terms of health: It's about marrying your inner wisdom (your hunger, fullness, cravings) with your outter knowledge (nutrition info, health recommendations, etc). The image below is actually a slide from the videos that I use to teach members of The SociEATy how to truly eat intuitively and find food freedom that feels GOOD (mentally and physically!).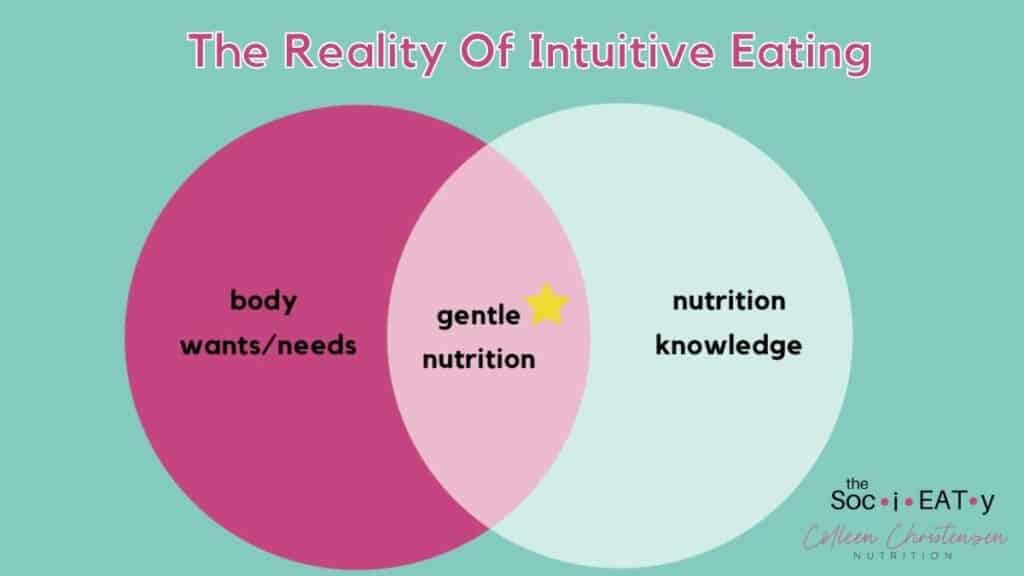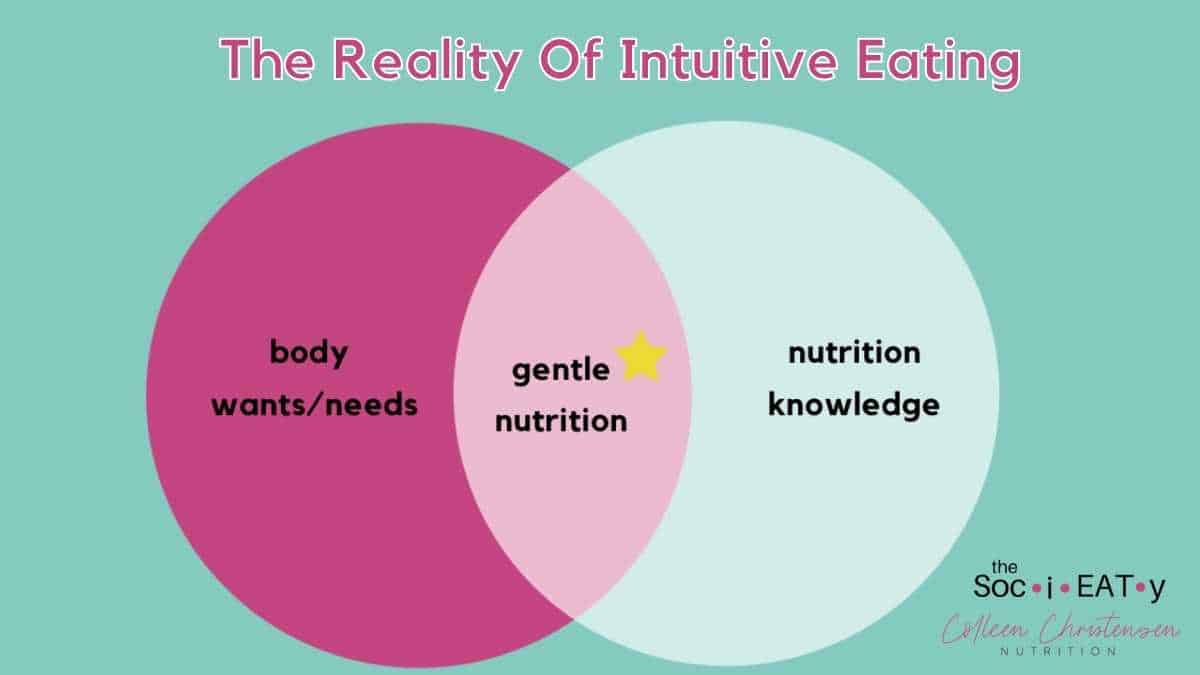 Throughout our lives the circles might change. Maybe there are times when you're busy (maybe you just had a baby, work is tough, etc) and it's all you can do to stay afloat, that inner wisdom might overpower. But at other times, maybe you receive a health diagnosis or you're really focusing on self-care. At those times that outter knowledge might start to take up more room. It can ebb and flow. It SHOULD ebb and flow! That's how life is!
How Do I Let Go Of Wanting To Lose Weight?
If you got to this point in the post and you're like "Yeaaaaah… well… I still want to lose weight" that's 180% understandable. The desire to lose weight is DEEPLY ingrained in our society. It's something that we learned to strive for over years and years to taking in diet culture centered media. That desire won't just go away because you read one blog post. If only it were that easy, right?!
If you're nervous about letting go of wanting to lose weight but are still interested in learning more about intuitive eating here is what I have to say: Just dip your toes in. Learn more. Read more posts. Watch YouTube videos. Just explore it!
Baby steps are okay. You don't have to dive in head first. This is a huge reason of why I teach a more stepwise approach to intuitive eating inside of The SociEATy. I'd SO much rather someone take one solid baby step forward than to take 80 steps forward in one day… then take 85 back the next. There is no timeline for this. What matters is your direction, not your speed.
If you're struggling with this my post on how to overcome negative body image. This is so so key, we actually have an entire stage in The SociEATy membership on body acceptance. This step is hard but it can't be skipped if you're looking to find food freedom!
So, what are your thoughts on intuitive eating and weight loss? Let me know in the comments!
Other Blog Posts You Might Like:
XOXO
-Colleen