Soft & fluffy blueberry muffins made with almond flour and almond butter are the BEST dairy and gluten free muffins! They've got 7g of protein and 4g of fiber PLUS they're packed with health promoting fats to help you feel full and give you lasting energy!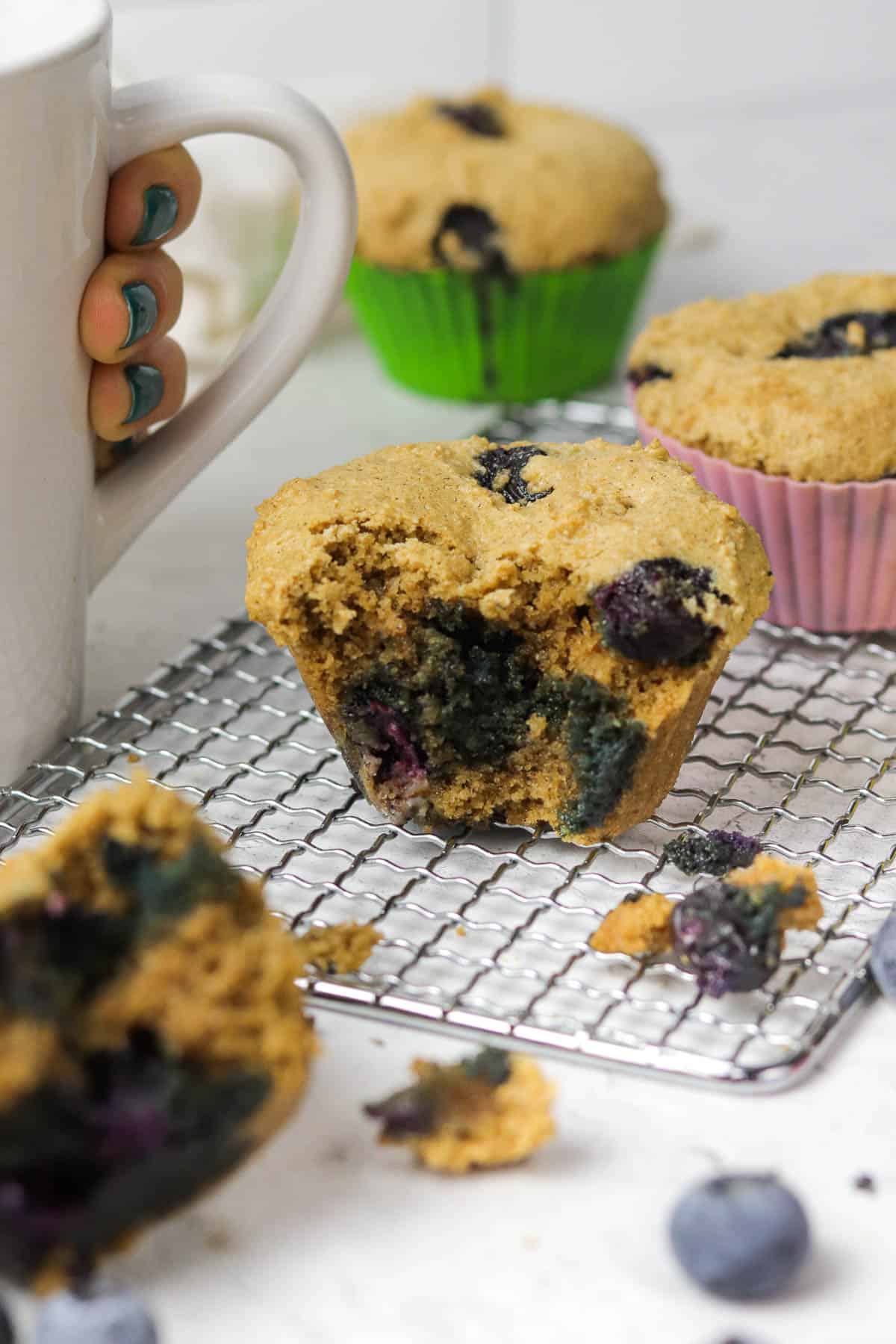 Why This Recipe Works
I love making muffins every week as part of my meal prep routine to make the busy work week easier and these gluten free blueberry muffins are a favorite!
I'm not gluten free but I do love love love the taste of almond flour and almond butter which are both used in this recipe. These ingredients also give these muffins a protein punch and add some health promoting fats, keeping me nice and full until lunch time!
These are also dairy free blueberry muffins so if you're in need of super allergen friendly recipes, I gotchu!
I also like to rotate these with my easy gluten free pumpkin muffins and my unbelievable almond flour banana muffins to keep things interesting!
Ingredients For This Recipe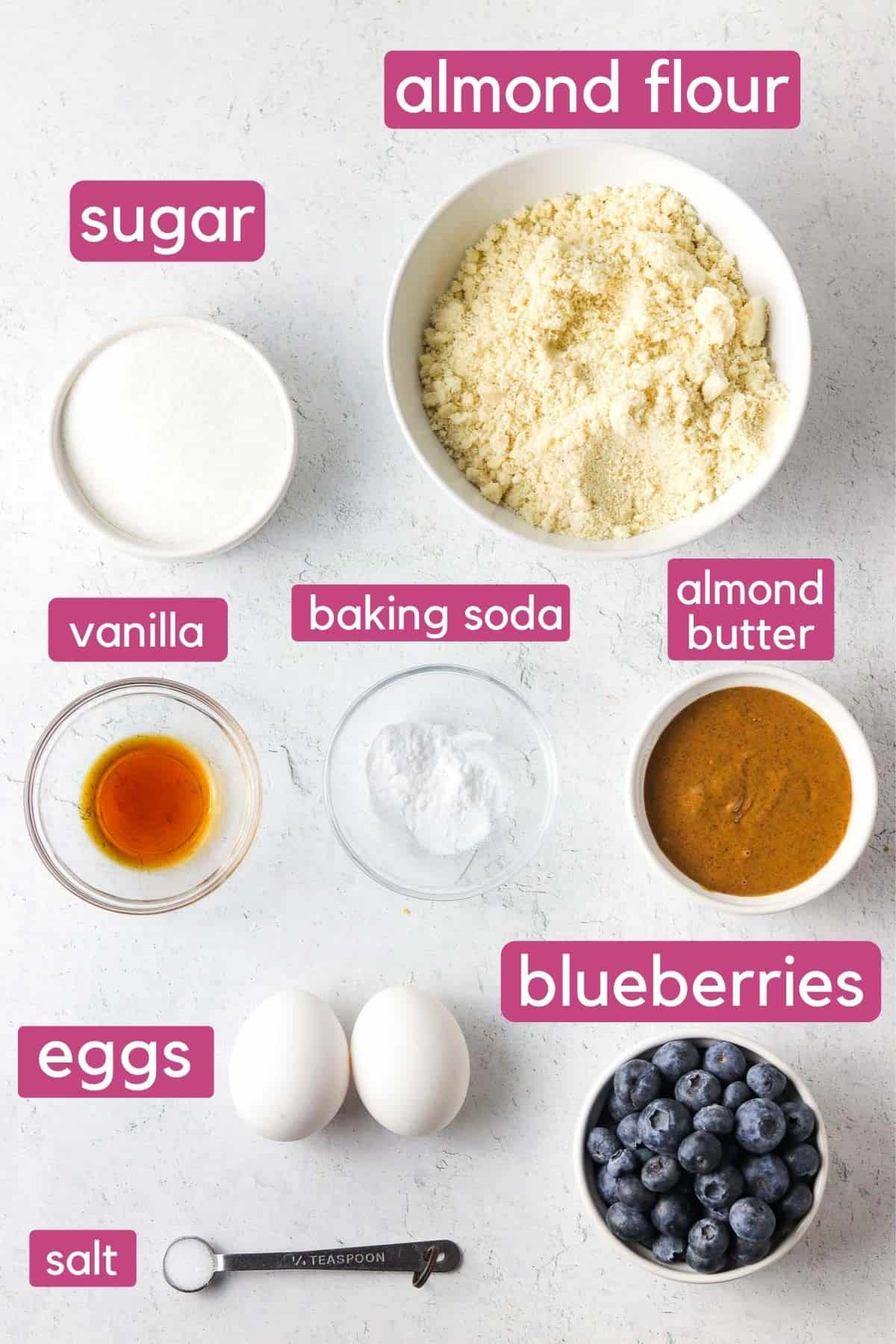 Almond Flour. This recipe was specifically developed using almond flour. It likely won't work if you sub regular flour. If you're looking for a recipe using regular flour checkout my recipes for blueberry protein muffins or banana carrot muffins!
Almond Butter. You can sub any type of nut butter for these muffins. I've used both all natural (the drippy stuff) and nut butters with oil (think JIF or the stuff you don't need to spread). I have a blog post on the difference between the two types (nut or peanut butter without pam oil and with) if you're wondering why some nut butters need to be stirred and some don't!
How To Make These Muffins
First preheat your oven to 350 degrees and line a muffin tin with liners- I love these silicone muffin liners!
In a large bowl combine almond butter, vanilla, egg and sugar. Mix well.
Next, add in almond flour, baking soda, and salt. Again, mix well.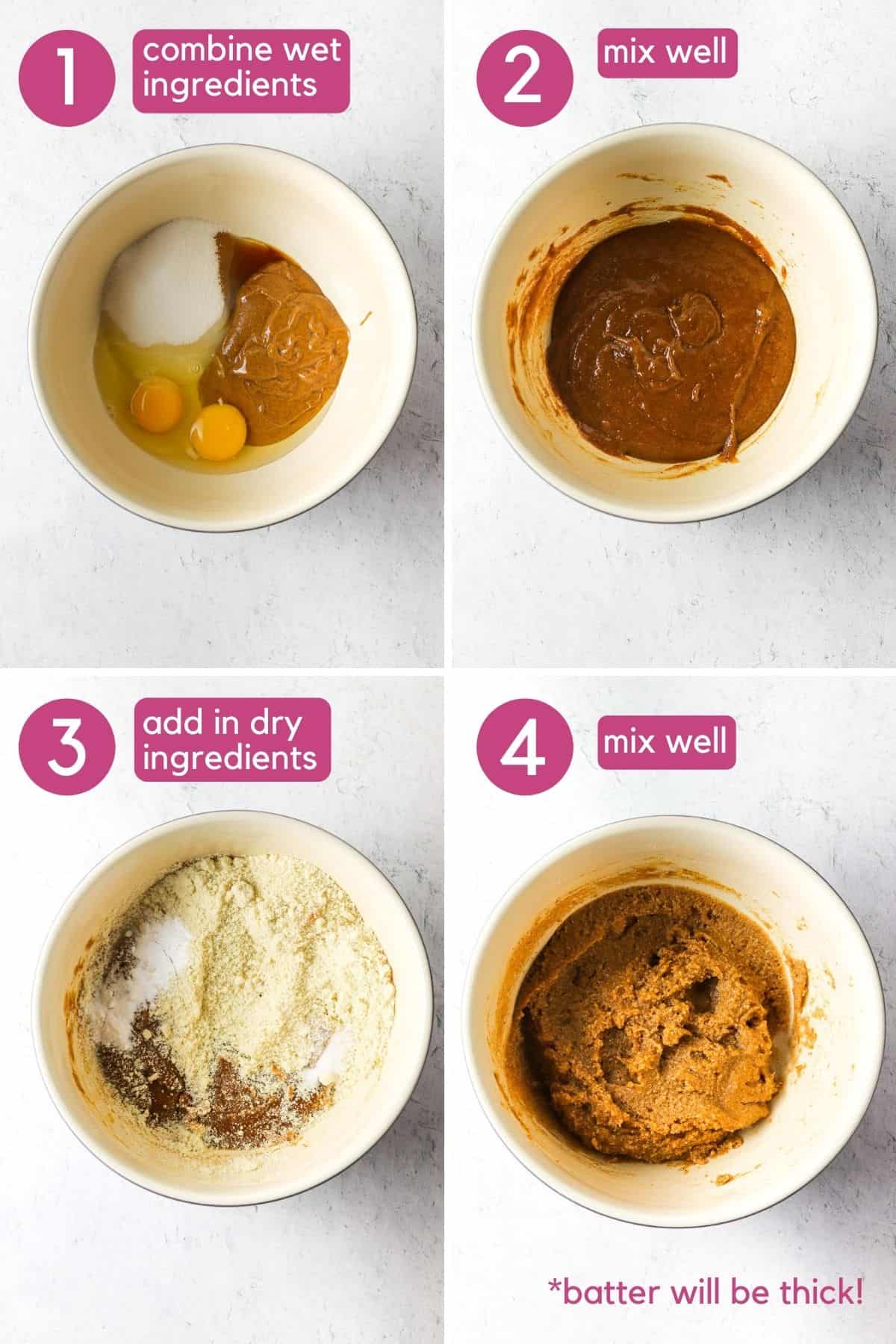 Fold in your blueberries to the muffin batter and then scoop into the muffin tin (I like to use a ~4oz ice cream scoop to ensure even sized muffins!)
Bake your muffins for 30 minutes until tops are golden brown and a toothpick comes out clean.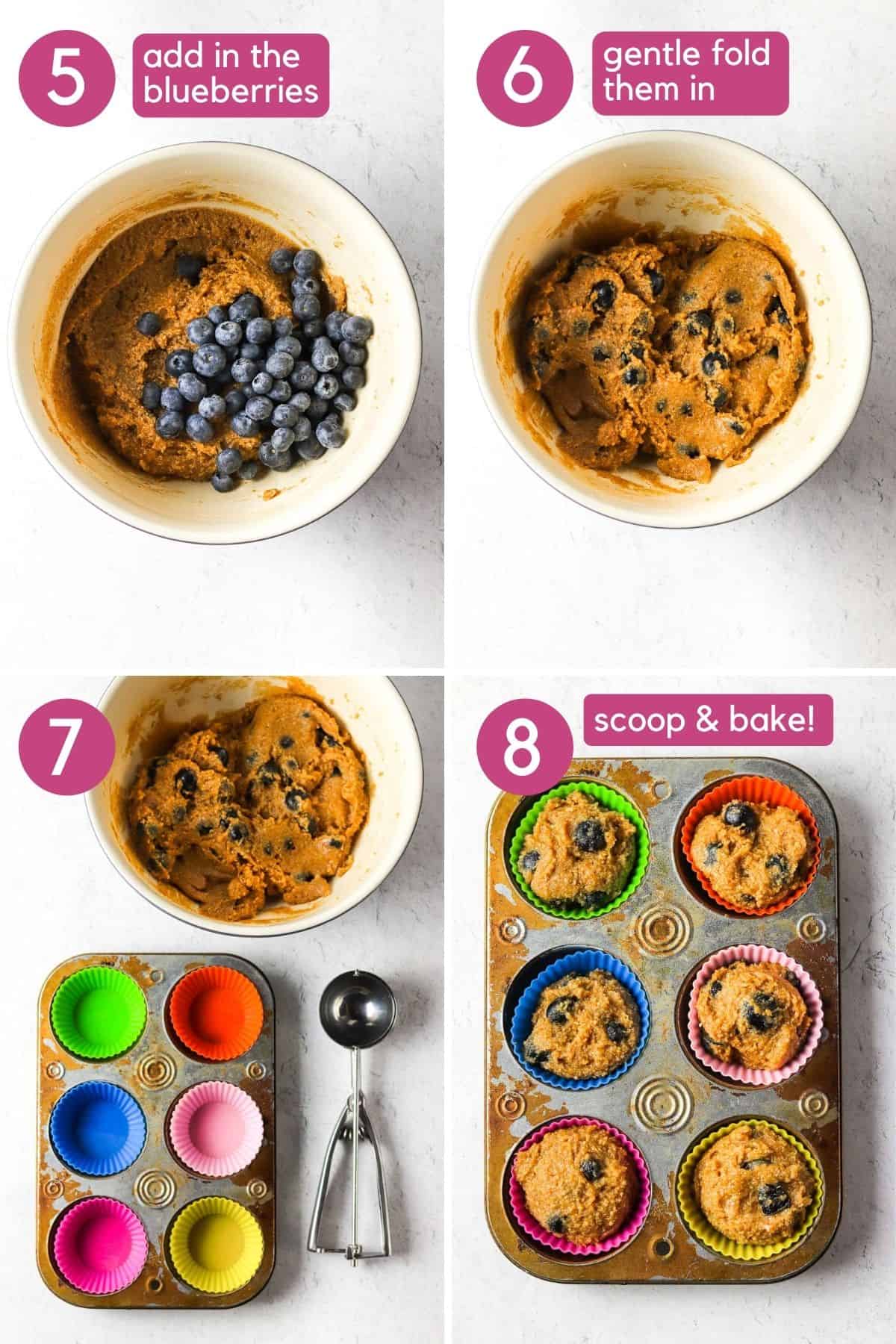 Enjoy!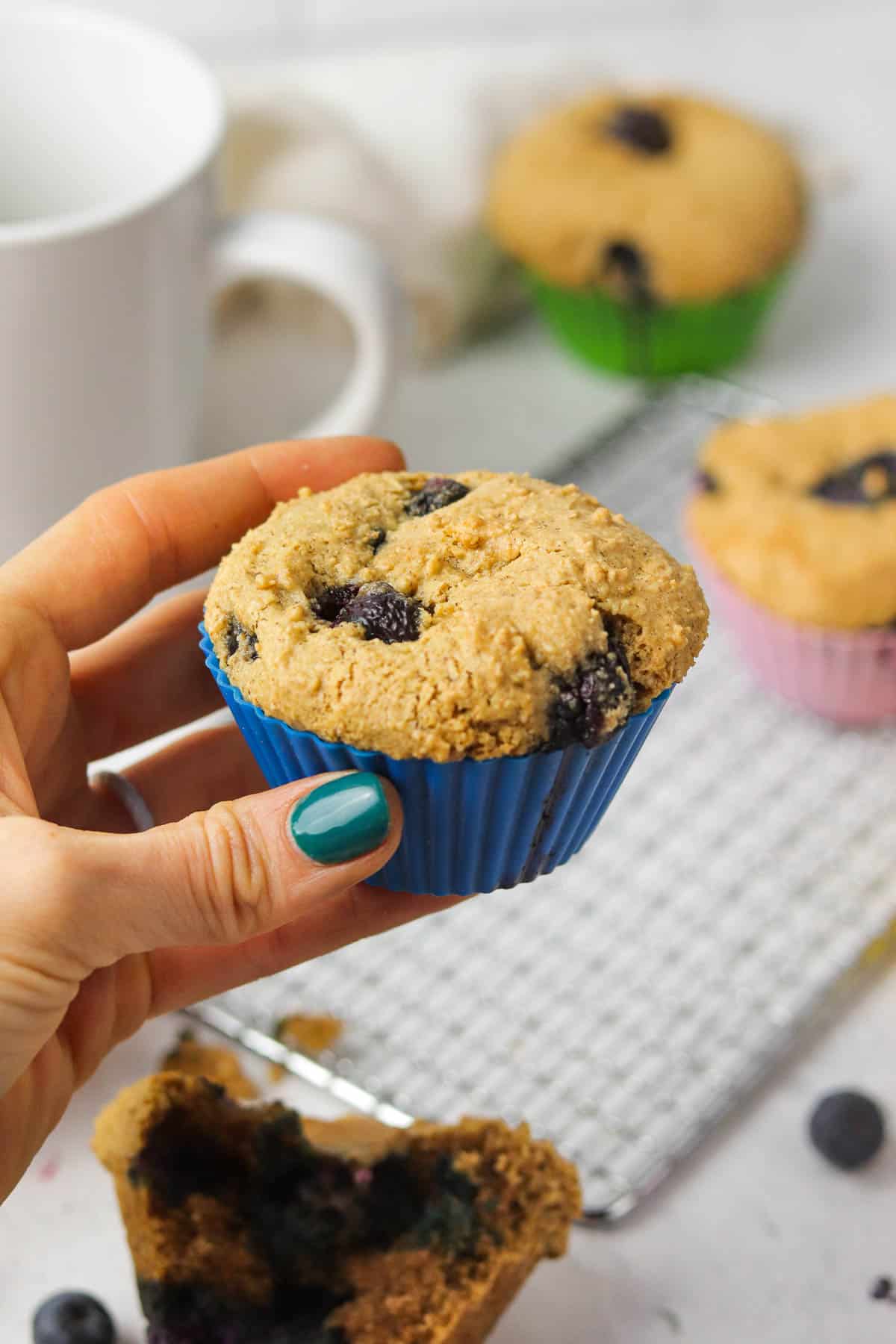 Recipe FAQs
Can I use another type of flour?
This recipe was developed for almond flour specifically and I wouldn't recommend using regular flour.
Can I make these vegan?
Sure! You can swap the eggs for flax eggs. Here is a good guide to making flax eggs, which states to use 1 tbsp ground flax to 3 tbsp water to make a flax egg! Since this recipe needs 2 eggs you'll want to do this twice, so 2 tbsp ground flax seed and 6 tbsp water. Be sure to let this sit for ~15 minutes in the fridge for it to gel!

I've used flax eggs in some other recipes like my gooey peanut butter vegan blondies and they work like a charm!
Can I swap nut butters?
Yep! Use any you like. It'll just change the flavor a bit. Use all natural or the kind with hydrogenated/palm oil. Both work!
How do I store these?
These will keep on the counter in a container for ~5-7 days. If you won't eat them in that time you can freeze them and they'll keep for a few months!
Can I use frozen blueberries?
Yes! I do this a lot. Just make sure they're full frozen and I like to rinse, drain and pat them dry.
Expert Tips
If you notice your muffins overcooking on the top but not cooked on the inside pop some aluminum foil over the top of them to prevent over browning. Usually I'll check at the ~20-25 minute mark!
Toss your blueberries in flour or cornstarch to keep them from sinking to the bottom of the muffins. This isn't a must but I try to do it when I remember!
Be sure to allow these muffins to cool FULLY! If you don't they may break when you try to taken them out of the liners.
Other Recipes You Might Like:
If you love this recipe, be sure to leave a star rating on the recipe card and leave a comment below!
Don't forget to pin it on your Pinterest board for later, or tag me on IG @no.food.rules if you try the recipe and love it!
XOXO
-Colleen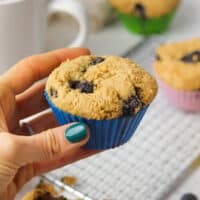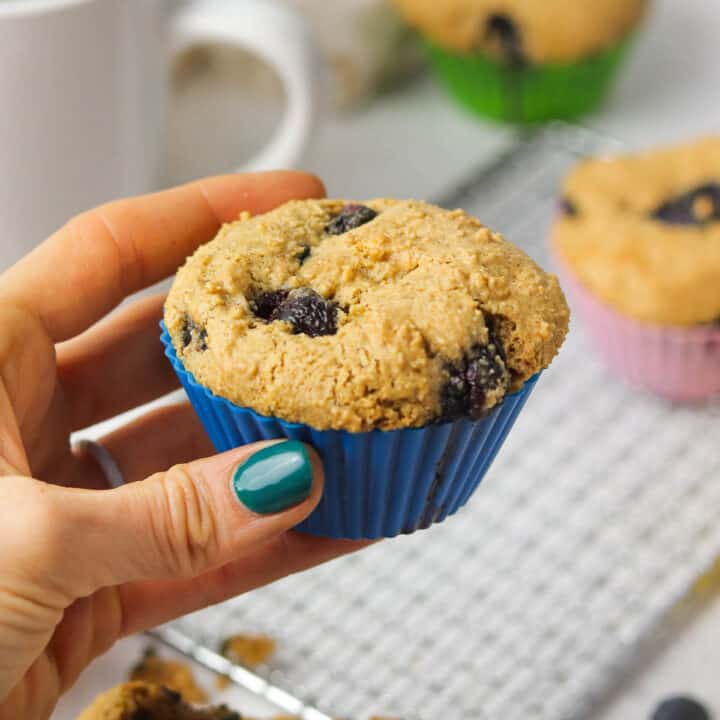 Gluten Free Blueberry Muffins
The BEST dairy & gluten free muffins made with almond flour & almond butter. They're packed with protein, fiber and health promoting fats!
PRINT RECIPE
Ingredients
1/2

cup

almond butter

2/3

cup

sugar

2

eggs

1

tsp

vanilla

2

cups

almond flour

1

tsp

baking soda

1/4

tsp

salt

1

cup

blueberries

fresh or thawed & drained frozen
Instructions
Preheat oven to 350 degrees and line a muffin pan with liners. Set aside prepared muffin tin.

In a large bowl combine almond butter, sugar, eggs, and vanilla. Mix well.

Add almond flour, baking soda and salt. Mixing well again.

Now, fold in your blueberries.

Scoop muffin batter into prepared muffin tin and bake for ~30 minutes.

Remove from oven, allow to cool fully and enjoy!
Notes
This recipe was developed only using almond flour. I wouldn't recommend a substitute.
Feel free to use any type of nut butter you have on hand.
May use flax eggs in place of real eggs (1tbsp ground flax seed + 3 tbsp water = 1 flax egg)
May use frozen blueberries. Thaw, rinse, drain and pat them dry before using.
If you muffins are browning on the outside but not cooked on the inside pop some aluminum foil over them and continue cooking. This will prevent over browning.
Toss blueberries in flour or cornstarch to prevent them from falling to the bottom.
click To display nutrition info
Nutrition Facts
Nutrition Facts
Gluten Free Blueberry Muffins
Amount per Serving
% Daily Value*
* Percent Daily Values are based on a 2000 calorie diet.