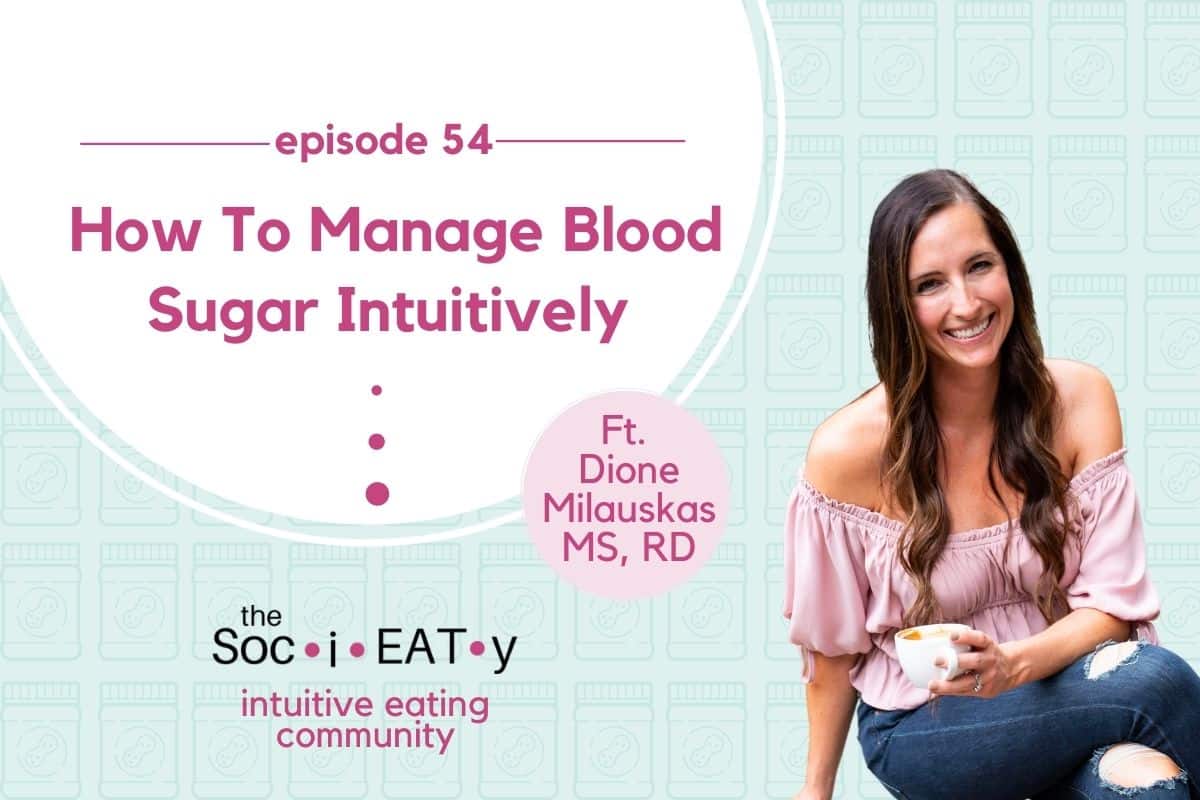 We have talked before on the podcast about sugar and how it tends to be a very scary thing for people subscribed to diet culture, so much so that their food rules are very frequently centered around it. We have also talked about how to neutralize sugar and heal from that food rule, but what if you have a condition related to blood sugar such as pre or type 2 diabetes? What if you are trying to eat intuitively but have to manage your blood sugar? Fellow registered dietitian Dione Milauskas joins me in this episode to help you make sense of that conundrum, and if anyone is qualified to talk about this topic, it's Dione because, as members of The SociEATy likely know, she even has a whole workshop in The SociEATy about this very topic!
Dione is also an expert on this topic because of her experience. She was diagnosed with pre-diabetes, PCOS, and insulin resistance herself, and she walks us through what that was initially like, feeling like she had to avoid carbs like the plague but knowing that things like the Atkins diet were not sustainable long term. She reflects on her journey and defines terms like pre-diabetes, AC1, and so forth, and she gives great advice on what to do if you're diagnosed with diabetes and are advised to cut carbs.
Dione also has an online coaching program called Blood Sugar Boss, and she elaborates upon the method that she teaches through that program. She talks about pairing our foods, dismantling negative attitudes that we have toward carbs, why carbs are actually important and are even needed by our bodies, and so much more! She also, of course, closes by offering up three actionable tips that can be put into effect today, including (1) to simply stop dieting, (2) adding fiber into what you eat every day, and (3) finding your method of joyful movement!
This is such an important topic, so please share this episode with anyone who might find it helpful! Even if they aren't necessarily trying to eat intuitively, this still has some great info about managing blood sugar and pairing foods. Please also be sure to subscribe, rate, and review and to share screenshots of this episode to your Instagram stories to let me know that you've heard it and what was most helpful and interesting for you! I read each and every one of your reviews and love hearing from you!
Time Stamps
[1:16] – Colleen reveals blood sugar as today's focus and also announces today's guest.
[4:15] – Dione walks us through what it was like being diagnosed with pre-diabetes.
[6:53] – Dione addresses some of the misconceptions around diabetes.
[12:44] – Dione explains what pre-diabetes is and what tends to cause it.
[14:24] – We learn what A1C is.
[16:33] – Dione advises us on what to do if we are diagnosed with diabetes and are told to cut carbs.
[20:57] – Dione elaborates upon her Blood Sugar Boss method.
[24:46] – We are given examples of how to pair foods.
[29:34] – Dione discusses how she marries her Blood Sugar Boss method with intuitive eating.
[34:40] – Colleen encourages us to be sure that we look at people's credentials before following their advice on eating.
[36:58] – Dione leaves us with three actionable tips that we can act on today.
[40:02] – Dione reveals where we can find her online.
Links and Resources
Colleen Christensen Nutrition – Website
The SociEATy – Become a Member
The SociEATy Podcast – "The Science Behind a 'Sugar Addiction'"
The SociEATy Podcast – "Why Dieting Makes Your Cholesterol All Wonky"
Blood Sugar Boss Coaching Program
Other Episodes You Might Like: