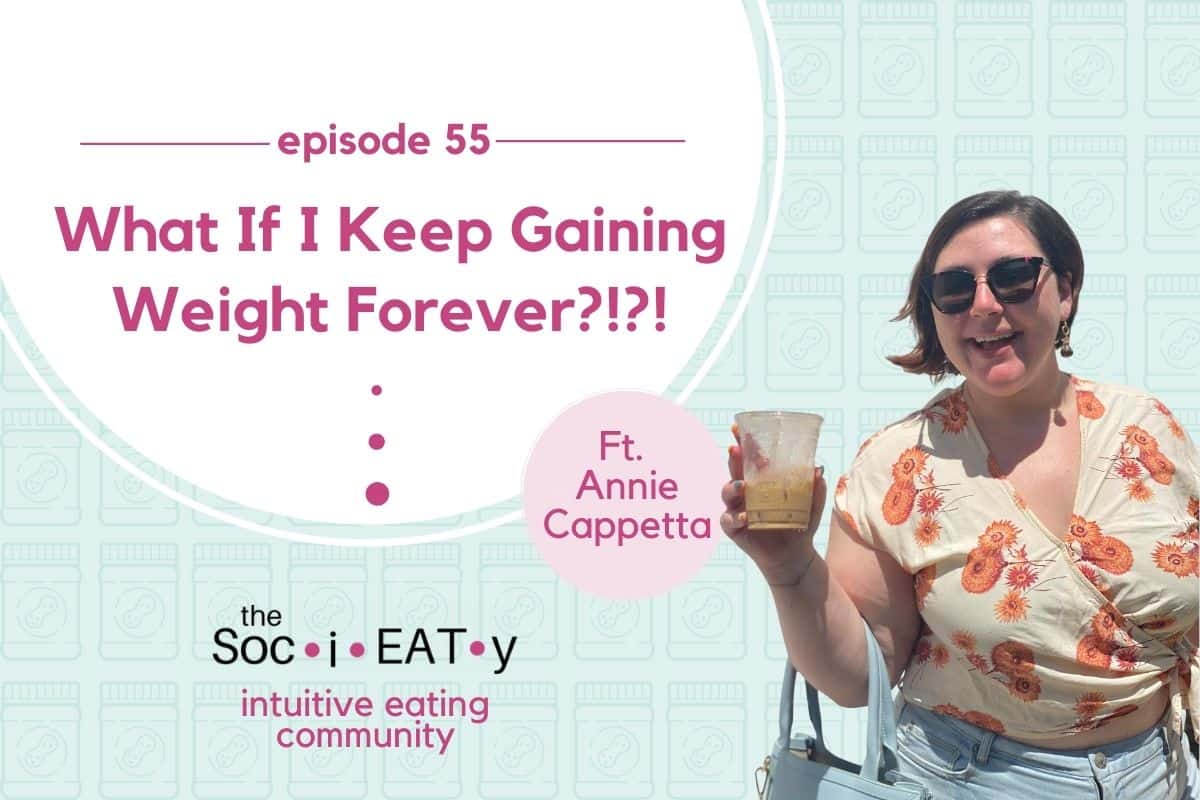 When it comes to finding your set point weight, I have talked before on the podcast about how one of three things is going to happen – you're either going to lose weight, maintain your weight, or gain weight. One of the things that is likely to cross some people's minds, though, is – what if I keep gaining weight forever?! This tends to be the biggest fear for people who start the intuitive eating journey, and SociEATy member Annie Cappetta is here with me today to help put your fears to rest!
Annie is such an amazing person. She is a lawyer but not because she likes to debate or make a point but because she wants to make the world a better place, and she has a multitude of hobbies such as gardening, playing music, writing, baking, and so forth. Like many of us, she comes from a background of restrictive eating, and she details that and her journey and how she got to where she is today with intuitive eating, a journey that she ultimately began in January of 2021. She chronicles how a pediatrician ultimately caused her to have an unhealthy relationship with her body and with food and how she eventually had intuitive eating recommended to her by a therapist.
Annie and I reflect on the COVID-19 pandemic and how it led to more and more people developing eating disorders or their eating disorders getting worse, which was definitely the case for Annie. She talks about how when she began the intuitive eating journey, she began gaining weight rapidly and feared that the weight gain was never going to end (which, as I assured her and assure all of you – it will!). Annie has also surrounded herself with resources such as books and art that have helped her and closes by encouraging us to check out materials about intuitive eating, health at every size, and fatphobia from our local libraries.
This is such a hot topic because so many intuitive eaters have this fear, and I am so thankful to Annie for being here and sharing her story and her insight. Please share this episode with anyone who might find it helpful, especially people who might be afraid of gaining weight as an intuitive eater. Please also be sure to subscribe, rate, and review and to share screenshots of this episode to your Instagram stories to let me know that you've heard it and what was most helpful and interesting for you! I read each and every one of your reviews and love hearing from you!
Time Stamps
[1:26] – Colleen introduces today's topic and guest.
[4:07] – Annie gives us some background information about herself such as how she found intuitive eating.
[9:10] – Annie discusses a significant turning point in college and how she became obsessed with food.
[12:59] – We learn how the COVID-19 pandemic affected Annie's journey.
[15:37] – Colleen comments on how normalized Annie's story is among children.
[19:32] – Colleen talks about what causes eating disorders.
[21:07] – Annie reflects on a low time in her journey.
[25:47] – Annie shares what the peak of her journey was.
[29:10] – We learn about how Annie preemptively prepared a speech about her eating intuitively for a new doctor.
[33:57] – We learn how Annie was able to handle one of the biggest lows of her journey.
[37:54] – Annie addresses her initial fear of gaining weight as an intuitive eater.
[43:30] – Annie surrounded herself, we learn, with images and content with affirming messages.
[47:40] – We discover how Annie managed her fear of forever gaining weight.
[53:07] – Annie sums up by saying that knowing our set point weights will bring us relief.
[55:29] – We are left with a couple of actionable tips such as using resources at the library and finding a hobby unrelated to food.
Links and Resources
Colleen Christensen Nutrition – Website
The SociEATy – Become a Member
The SociEATy Podcast – "What Is a Set Point Weight [and How to Find Yours!]"
The SociEATy Podcast – "Weight Gain During Intuitive Eating (Part 1)"
The SociEATy Podcast – "Weight Maintenance During Intuitive Eating (Part 2)"
The SociEATy Podcast – "Weight Loss During Intuitive Eating (Part 3)"
The SociEATy Podcast – "The Science Behind a 'Sugar Addiction'"
Becker's Hospital Review – "Hospitalizations for eating disorders doubled last year, study finds"
Julie Murphy – Amazon Author Page
Other Episodes You Might Like: