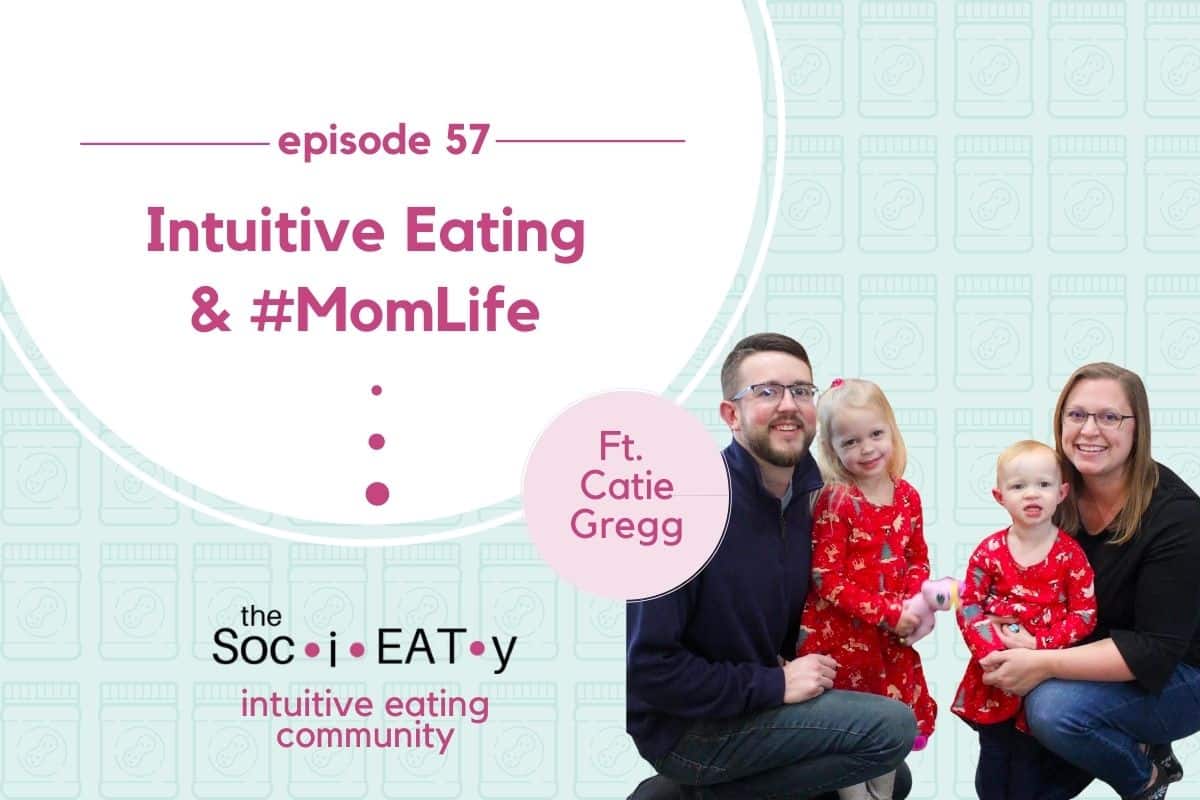 Intuitive eating can be overwhelming, especially at first. No one is trying to tell you that it's easy, and it can be especially overwhelming and difficult when you're a parent. Catie joins me today to talk about her intuitive eating journey as a mom, and if you're a member of The SociEATy and/or have been listening to the podcast regularly, then you're likely going to recognize Catie's voice because not only is she one of our peer mentors, she has also been featured on the podcast before!
Catie shares a little bit of information about herself and how she went about finding time for eating intuitively as a mother of two. She and I also talk about the importance of remembering to eat even when busy, how to satisfy your own cravings when those cravings aren't necessarily things that your kids like, how routine and normal intuitive eating starts to feel after a while, how Catie goes about instilling intuitive eating in her daughters, and so much more! Catie also leaves us with some actionable tips, such as seeing intuitive eating as self-care and taking the journey slowly and one day at a time.
I frequently get questions centered around being an intuitive eater as a mom, so I hope that this episode has been helpful to you, even if you're just wondering how to balance being an intuitive eater with all of the other hats that you wear in your life. We really want to drive home the idea that not every meal is going to be perfect and that that is okay, but it's so important that we teach intuitive eating to our kids rather than teach them what diet culture would want us to teach them because they are literally the next generation. Please share this episode with anyone who might find it helpful, and please also be sure to subscribe, rate, and review and to share screenshots of this episode to your Instagram stories to let me know that you've heard it and what was most helpful and interesting for you! I read each and every one of your reviews and love hearing from you!
Time Stamps
[1:41] – We discover that returning guest Catie Gregg is today's guest.
[4:21] – Catie shares some information about herself and her family life with us.
[5:33] – Catie reveals whether or not intuitive eating was overwhelming for her at first.
[7:34] – We learn how to go about finding time for intuitive eating.
[12:05] – Catie addresses meal planning.
[15:39] – Catie touches upon how she satisfies her own craving when it's something that her kids don't like.
[21:57] – Catie touches upon how her relationship with food has changed since no longer dieting.
[28:39] – We discover how Catie teaches intuitive eating to her kids.
[31:36] – Catie emphasizes that she makes it a point to compliment her daughters on more than just their appearances.
[35:08] – Catie closes with a couple of actionable tips, such as seeing intuitive eating as self-care.
Links and Resources
Colleen Christensen Nutrition – Website
The SociEATy – Become a Member
The SociEATy Podcast – "How to Stop Binge Eating"
The SociEATy Podcast – "What We Wish We Knew Before We Started Intuitive Eating"
The SociEATy Podcast – "Raising Intuitive Eaters"
Other Episodes You Might Like: