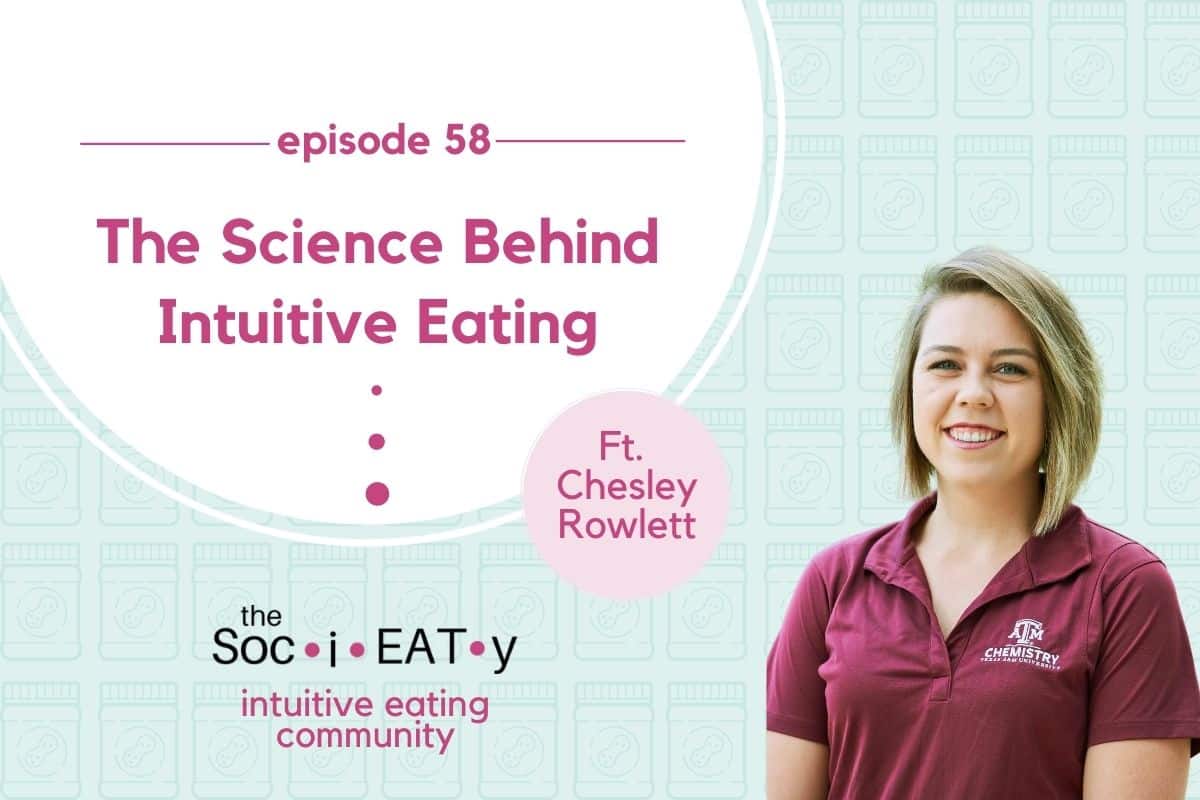 This is such a great episode that I have for you today, one that I have been wanting to record for a while! SociEATy member Chesley joins me today to talk about the science behind intuitive eating vs. the lack of science behind dieting! Learning about that science is something that really helped Chesley along on her journey, so we dive into and discuss that. Chesley actually just began her master's program in applied nutrition and dietetics and recently chose intuitive eating and obesity as a research topic, so she is armed with dozens of sources in support of intuitive eating!
Chesley discusses her background with dieting, how she realized that she had an unhealthy relationship with food and with her body when she was in grad school, and how she went about tackling that problem. She passionately enthuses over all of the evidence that she has found over time that points to dieting being ineffective and how she believes that this research needs to be put out there and state not just that dieting doesn't work but also what the better alternative(s) is/are.
Chesley also discusses set point weight and how studies consistently show that dieting is the only link between constant weight gain, and we also talk about how studies and experiments that show the effectiveness of dieting leading to weight loss are usually flawed. Chesley reminds us that there are studies that support the idea around there being behaviors other than weight loss that help promote our health, behaviors such as physical activity. She also stresses the fact that our bodies change and evolve as we age and that there is absolutely nothing wrong with that; it's completely normal!
As is tradition on the podcast, Chesley leaves us with a few actionable tips such as listening to this episode more than once and reflecting on the real reasons why we began dieting in the first place. My sincerest hope for those of you listening is that regardless of whether you're new to your journey or if you're somewhere in the middle, discussing the supportive science behind intuitive eating will motivate you to continue and keep going with it! I also hope that you will share any information here that you find especially helpful with someone who could really benefit from it! Be sure to also subscribe, rate, and review and to share screenshots of this episode to your Instagram stories to let me know that you've heard it and what was most helpful and interesting for you! I read each and every one of your reviews and love hearing from you!
Time Stamps
[1:32] – Colleen announces today's topic as the science behind intuitive eating.
[3:40] – Chesley gives us details about herself and her intuitive eating journey.
[8:38] – Chesley points to an article that helped her see obesity in a different way
[11:40] – Chesley points out some of the specific key points in her research.
[18:55] – Learn about why research needs to do more than just state that dieting doesn't work.
[22:03] – Colleen clarifies that it's possible to be below, at, or above your set point weight.
[27:56] – Colleen dives into weight loss being linked to health benefits without evidence.
[33:27] – We get an example of how diets being successful are usually only for six months.
[39:15] – Chesley discusses the impracticality regarding the efficacy of dieting.
[44:56] – Chesley discusses research about health-promoting behaviors unrelated to weight.
[50:08] – We hear an example of how our bodies naturally change over time.
[55:09] – Chesley discusses the obesity paradox.[57:26] – We are left with a few helpful actionable tips.
Links and Resources
Colleen Christensen Nutrition – Website
The SociEATy – Become a Member
Michael Hobbes – "Everything You Know About Obesity Is Wrong"
"Energy balance measurement: when something is not better than nothing"
The SociEATy Podcast – "What Is a Set Point Weight? [and How to Find Yours!]"
The SociEATy Podcast – "Weight Gain During Intuitive Eating (Part 1)"
The SociEATy Podcast – "Weight Maintenance During Intuitive Eating (Part 2)"
The SociEATy Podcast – "Weight Loss During Intuitive Eating (Part 3)"Intuitive Eating
Other Episodes You Might Like: