Say good-bye to boring salad with this spinach blueberry salad with candied cashews! It's bursting with flavor and packed with nutrition. I could eat this crisp and refreshing blueberry spinach salad on repeat and NEVER get sick of it!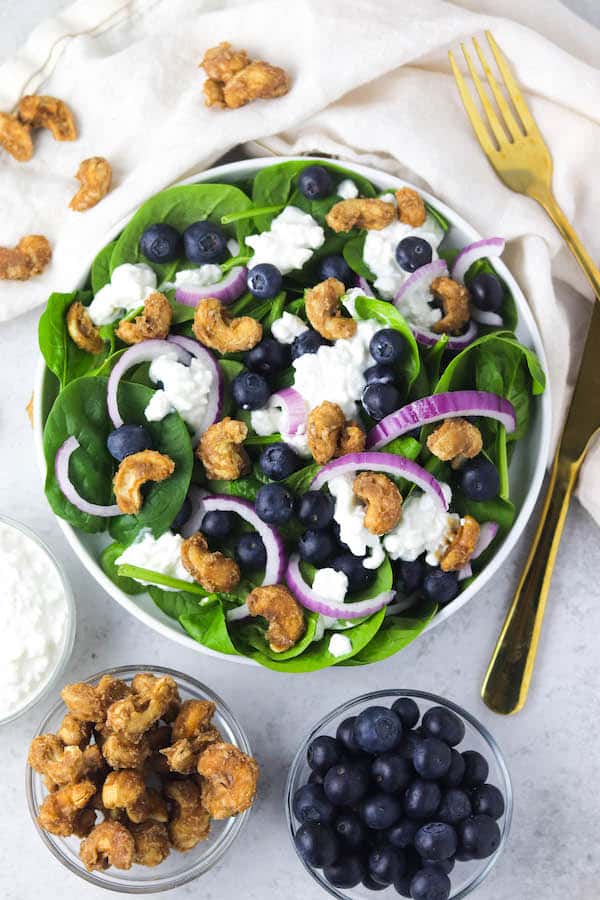 Why I Love A Salad With Blueberries
I've got a huge sweet tooth. No, wait.. that's a total lie. I'm pretty positive ALL of my teeth are sweet teeth. And it might shock you to hear that I, as a Registered Dietitian, tell you not to avoid that but to lean INTO it! If you like sweet things, incorporate MORE of that! And this blueberry spinach salad is a great way to do that while nourishing your body.
In addition to providing sweetness a salad with blueberries will give you some fiber (which helps to keep you full!) and antioxidants, which help to keep your body's cells nice and healthy.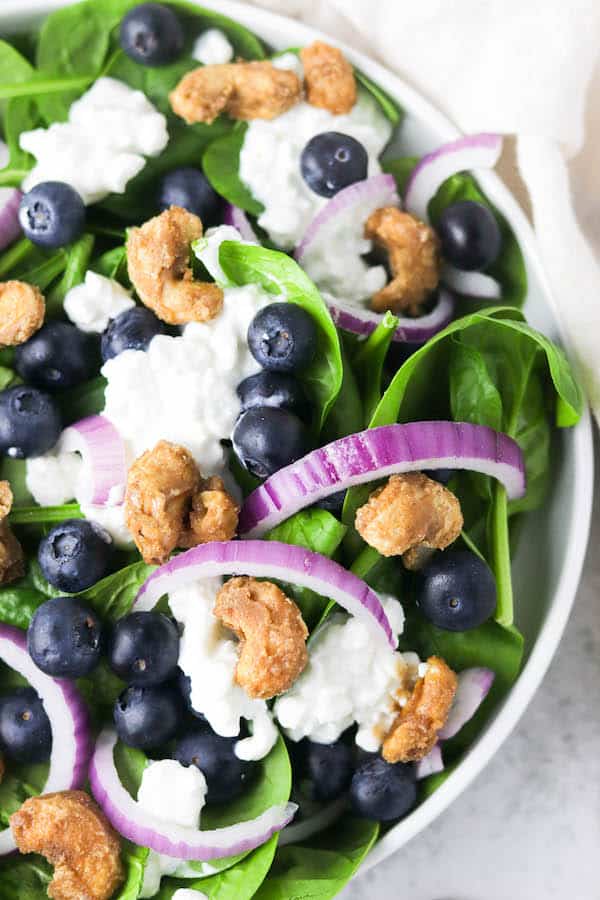 How To Make The Candied Cashews
I told you I have a sweet tooth, right?! I love to add candied cashews onto this spinach blueberry salad to add some, well, more sweetness (like I said, lean INTO that! You'll prevent yourself from binge eating later!), some crunch (To me, a salad without some crunch is SO boring), and a dose of fat which will help keep you full.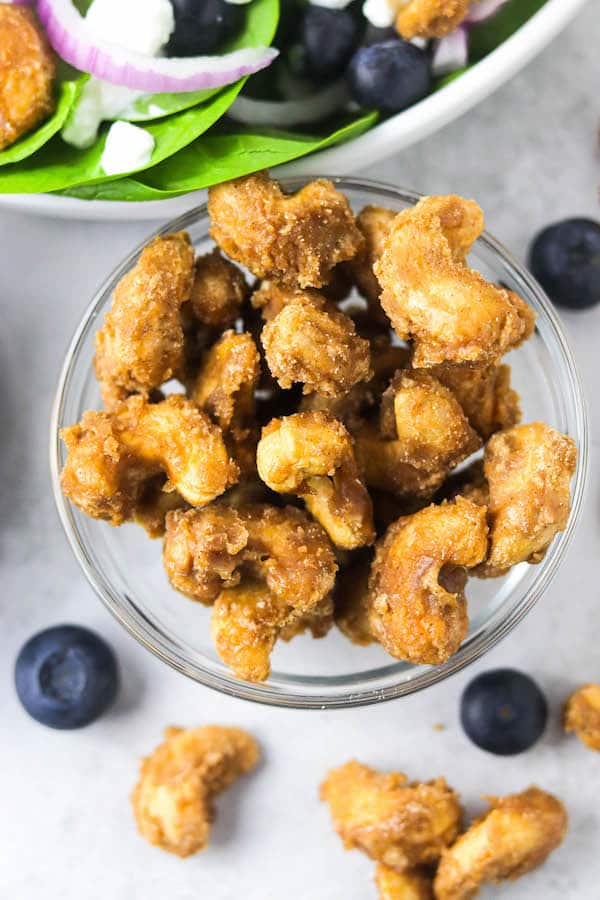 Making these candied cashews couldn't be easier either. All you have to do is:
Add the sugar, water, vanilla and cinnamon to a saucepan and simmer for ~3-5 minutes until you have a thick syrup
Remove from heat and fold in cashews, coating evenly
Spread on a parchment lined baking sheet and allow to cool fully
Seriously, SO EASY. I'd highly recommend making an extra batch of these candied cashews to munch on. I also love putting them in my yogurt and on top of oatmeal!
How To Assemble The Spinach Blueberry Salad
Again, this couldn't be easier. Ya' literally just throw it all together. BOOM. Done. Now, one of the ingredients might shock you... cottage cheese! Strange, I know, but hear me out! The cottage cheese adds a super great protein punch to, again, keep you nice and full. Do we see a theme here yet?! Sweetness....easy... and feeling full! What's not to love?!
I usually don't use any salad dressing for this blueberry spinach salad because the cottage cheese kinda of acts like it when you get it all mixed up. But, if you like lots of dressing, you can totally add some of your fave!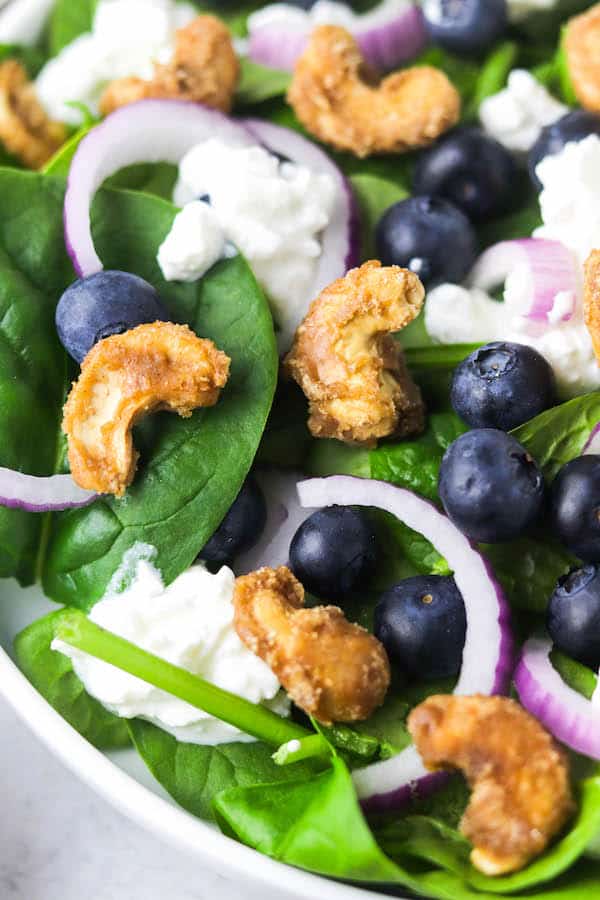 I also like to serve this salad with a carb source if I'm having it as a meal. I'll add some of my fave air fryer sweet potato fries or air fryer seasoned potatoes. Potatoes on a salad are actually FAB. If you haven't tried it, do it! Or I'll add some quinoa, couscous, crackers... honestly? whatever I have on hand! Adding the carb really helps to round it our for a meal and keep me satisfied. Remember, I always say, carbs are our FRIEND! Our bodies like and need carbs.
Blueberry Spinach Salad FAQs
Can I use frozen blueberries?
YES! Honestly, I probably use the frozen ones most of the time when I make a salad with blueberries. It's just easier, ya know? But I do love using fresh blueberries when they're in season!
Can I make this salad ahead of time?
Totally! I'd recommend keeping the cottage cheese out and adding it before eating. So, if you're doing some meal prep just bring your cottage cheese in a small little separate container.
Can I use a different fruit or nut?
Absolutely! This salad is also fab when you swap out the blueberries for raspberries, apple slices, blackberries.. honestly any fruit would do! You can do the same for the nuts. You can candy really any nut or leave them plain! Almonds, walnuts, and pecans are some of my other faves to use with this spinach blueberry salad beyond the candied cashews!
Go ahead and give this blueberry spinach salad a try! If you love it as much as I do be sure to leave a comment and a star rating on the recipe card. I love hearing what you guys think!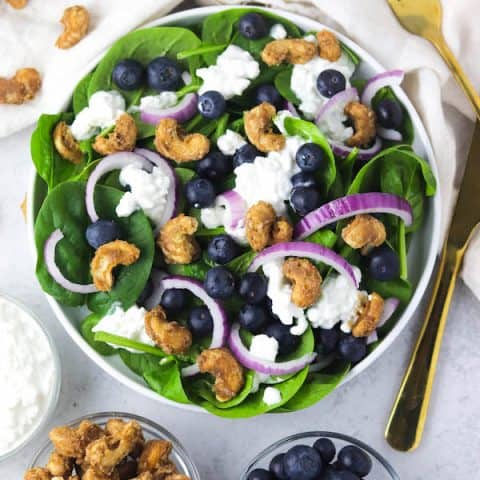 Spinach Blueberry Salad With Candied Cashews
Crisp and refreshing, this spinach blueberry salad is topped with candied cashews for added crunch and cottage cheese for a protein punch that will keep you feeling full!
Ingredients
2 cup raw spinach
1/2 cup blueberries
1/4 cup sliced red onion
1/4 cup candied cashews (see notes for recipe)
1/3 cup cottage cheese
Instructions
Add spinach to a medium sized bowl or plate.
Top spinach with red onion, blueberries, candied cashews and cottage cheese.
Enjoy!
Notes
I recommend adding a source of carbohydrate if making this into a meal.
May add chicken, ground turkey, baked tofu, etc. if desired.
To make the candied cashews combine 1/2 cup brown sugar, 1/2 cup water, 1 tsp vanilla and 1/4 tsp cinnamon in a sauce pan. Simmer for about 5-7 minutes until mixture is bubbling and thick like syrup. Remove from heat and add in cashews. Place on a parchment lined baking sheet to cool fully.
Nutrition Information:
Yield:

1
Serving Size:

1
Amount Per Serving:
Calories:

348
Total Fat:

20g
Saturated Fat:

4g
Trans Fat:

0g
Unsaturated Fat:

13g
Cholesterol:

12mg
Sodium:

530mg
Carbohydrates:

32g
Fiber:

5g
Sugar:

14g
Protein:

16g
Happy eating, friends!
XOXO
-Colleen
Want more recipes like this? You might like these:
Roasted Pumpkin And Feta Salad