Sometimes eating can feel, well, really dang complicated. And confusing. And then when it feels like you're the only person on the planet who can't eat like a normal person, feelings of shame and vulnerability can be intense.
Why is it that you can be doing your best to nourish your body and take care of your health only to feel hungry after eating your lunch, your snack, or your perfectly planned dinner?
I'm here to help! I'm Colleen, a non-diet Registered Dietitian who is here to teach ya the ropes to this whole no-food-rules lifestyle thing! The journey to food freedom isn't always sunshine and rainbows, and it is a WHOLE lot more complicated than just "listen to your body". You and your body need to patch up your relationship with one another and build trust.
As the creator of The SociEATy, an amazing group of women who are bidding farewell to dieting, I can tell you that you're not alone with your struggles. This post is all about how you can navigate your meals and snacks and overcome the most common reasons that your meals aren't up to snuff (yet!).
With this guidance, you'll be on your way to planning meals that feel good and leave you satisfied – not hungry – after eating.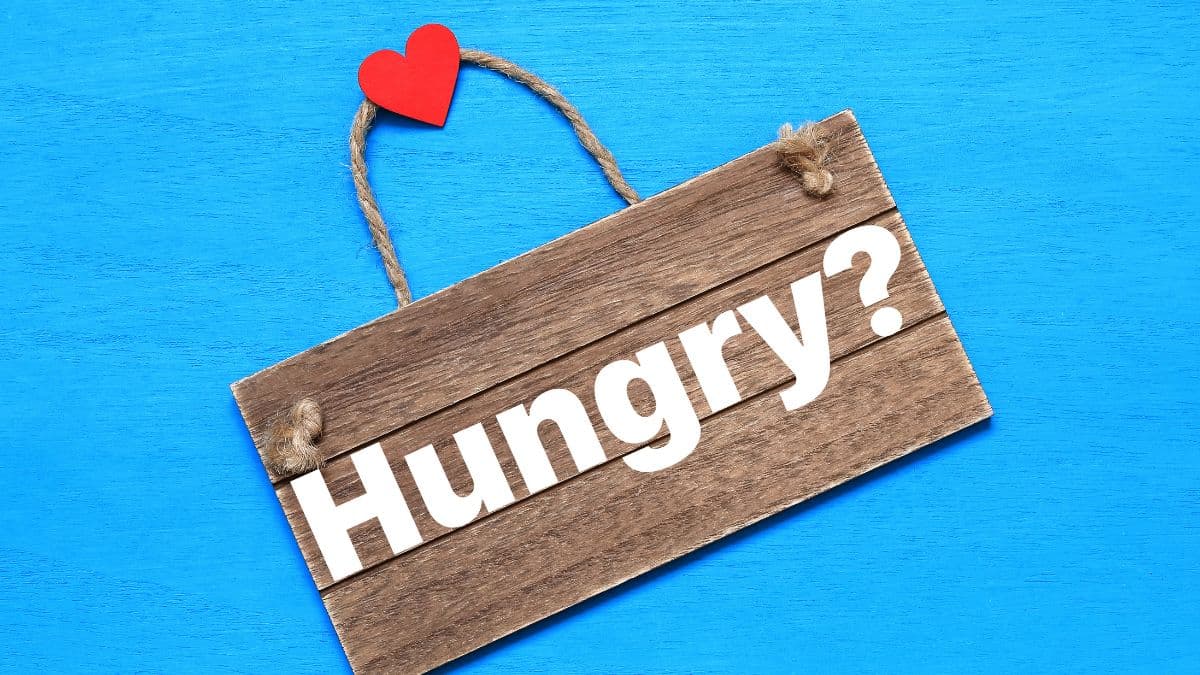 Your hunger and fullness cues are wonky
You know what is hard, like, really hard? To follow instructions that are super unclear. Trying to listen to your hunger and fullness cues when you've been on a restrictive diet is kind of like trying to assemble a new piece of furniture from IKEA or that one episode of Friends where Ross is putting together new furniture after his divorce. "I have no brackety thing, I see no one guys whatsoever and I cannot feel my legs."
When you and your body aren't in a place of trust with hunger and fullness, the messages are wonky and hard to understand. So even if you're trying your best to give your body what she needs, your instructions aren't clear. And so, that makes it hard.
Where did your hunger cues go? I explain everything in this podcast episode: Why you lost your hunger cues (and how to get 'em back).
As frustrating as this poor communication is, it is also really common. That is why I have created a free guide to help you nourish your body enough with my one-week binge-free meal plan. You can get your hunger cues back by something called biological reconditioning…and this science-y concept is super important (and also something that folks tend to skip in their attempts to find food freedom).
The binge-free meal plan will help you to discover simple, satisfying, and nourishing meals that will help you to feel more in harmony with your body…lowering your risk of binging!
What does enough mean for you? Let's find out.
You didn't eat enough
Let's explore another most common reason that you're still hungry after eating: you didn't eat enough.
Whether you're purposely restricting your intake, such as trying to follow a restrictive plan such as Weight Watchers, MyFitnessPal, or Noom, or just thinking that you need less than you really do, you're going to be hungry. Food is fuel. Food is energy. And you're going to feel hungry if you don't get enough.
(BTW – I'm not just talking about enough volume here. Eat cauliflower rice if you like it, but a humongo bowl of cauliflower rice does not a meal make…your body needs more nourishment than just veggies.)
What else do you need? Let's explore those macros.
You missed a macro
We can divide our food into three main categories in terms of the nutrients that they give our body; protein, carbohydrates (carbs), and fat. These are all called "macronutrients" and abbreviated "macros".
These macros are called essential for a reason: we need them! No fat-phobia of the 90s or carb-hating of the 2010s can actually change our biology: we need each of these macros throughout the day to feel and function our best. Period.
So while I am never going to advocate that you micromanage your meals down to the calorie or point or gram, there is some room for gentle nutrition here: planning meals and snacks with more than one macronutrient helps to keep you fueled and satisfied.
If you'd like to take a deep dive into counting your macros (and why I don't recommend it), check out this post: Is Flexible Dieting Helpful Or Harmful?
Psssst! Did you snag that 1 week free meal plan? I show you how to think about macronutrients without obsessing and micromanaging!
Forgotten Fiber
Fiber is a nutrient that we don't tend to get enough of, and it is worth paying a bit more attention to. You probably know that fiber can help keep our digestion regular, but it actually offers a lot more health benefits than that. Fiber is the fuel for the healthy bacteria in our digestive tract and keeping them happy actually helps to keep us happy.
We need enough, but not too much fiber: Fiber: How Much Is Too Much?
And before you reach for a fiber supplement, I'd first ask you to take a peek at your usual meals and snacks. How often are you seeing fruits, veggies, whole grains, nuts, and seeds?
If the answer is rarely, it might be time to explore and find some of these fiber-filled foods that you actually like. But hot tip: you don't need to force yourself to eat something that you don't like. With Intuitive Eating, food gets to be nourishing and enjoyable.
For example, most of the time I like to use whole-wheat bread. I like the taste and texture and feel satisfied for longer than when I eat white bread. On the flip side, I much prefer the taste of white rice over brown rice.
The point? Intuitive Eating is flexible. It isn't all or nothing like a restrictive diet is. Your preferences matter. Let's talk about those a bit more in this next section.
Your meal wasn't satisfying
This section might feel way outta left field if you're used to planning your meals based on calories, points, or macros: your enjoyment and satisfaction matter.
Yup.
Food is energy, but it isn't just energy, calories, grams of protein, or vitamin C.
Food, if we let it, gets to offer us enjoyment, comfort, pleasure, and a connection to our traditions and culture.
Have you ever craved something that you weren't allowing yourself to eat, like a warm mug cake, and so you tried something "healthy" instead? You drank a glass of lemon water. You waited ten minutes. You had an apple and peanut butter. And yet: what you really needed was a warm mug cake, so then you ate that.
But maybe guilt popped up so your enjoyment was tainted? Ugh.
There is a big ole difference between being full and being satisfied.
Being full is about cramming as much volume into your belly to try to trick your brain into thinking that is enough. Spoiler: it doesn't work. Your brain is smarter than that and will launch into big ole cravings to get the fuel that you need. You can't sabotage biology forever.
Being satisfied is about crafting meals that have the nutrients you need in a way that feels good and hits the spot. Blueberries are a nutritious fruit, but if you don't like 'em, have pears, grapes, or an apple instead. Sandwiches are a super convenient way to nourish your body mid-day and might just taste better with some crunchy chips on the side – you do you!
In the SociEATy, I teach my clients how to be full AND satisfied. One example of that is adding things to your meals and snacks instead of focusing on restriction. Cereal might be a really delicious way to start your day, but because a lot of common cereals are lower in protein and fat, they might not keep your body fueled for as long. One solution is to add your favorite cereal to my smoothie cereal bowl; you get to enjoy your favorite cereal with a nourishing boost from the yogurt, peanut butter, and fruit.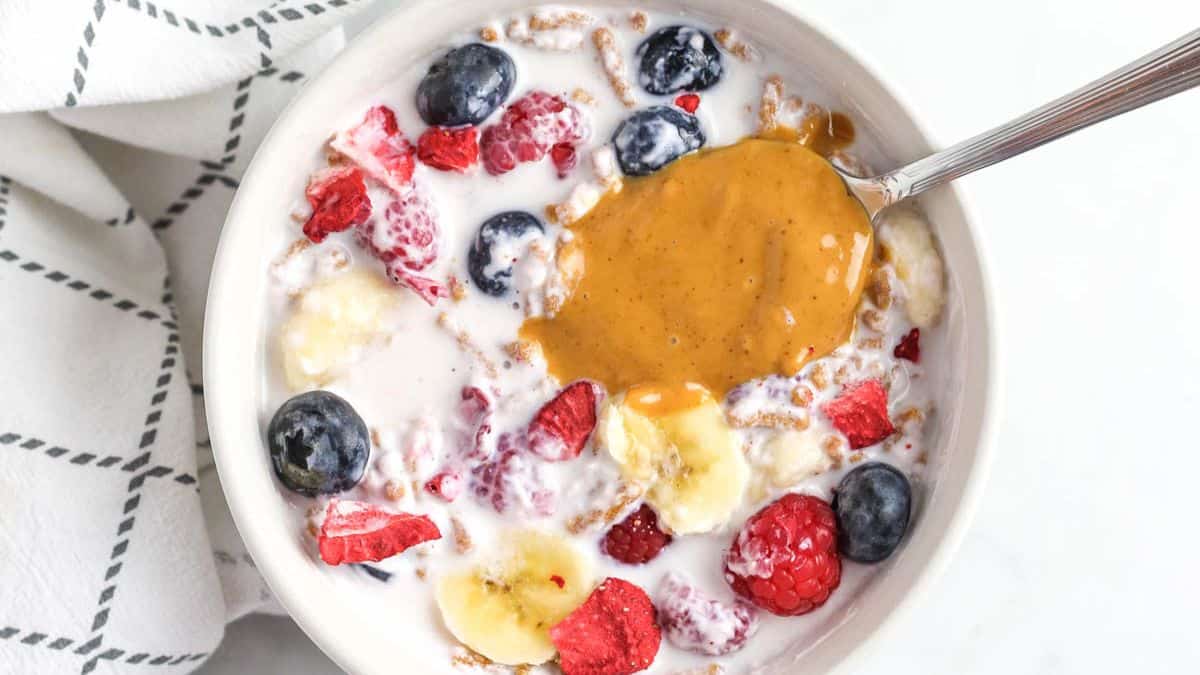 Other reasons you're hungry after eating
Learning to nourish yourself with meals that taste good and feel good is a big part of becoming an Intuitive Eater. This journey involves a lot of unlearning of all of the micromanage-y, diet-y BS of diet culture.
There are other reasons that you might not be feeling satisfied after your meals too. Let's close out this post with a few other reasons to consider.
You're bored
Food CAN be fun and entertaining. And let me tell you right now that eating to soothe your emotions is just fine! Having a brownie on a bad day or a piece of birthday cake to celebrate is all completely good and normal.
The catch is if emotional eating is your only tool to deal with uncomfortable emotions. I talk a bit more about that right here: How To Stop Boredom Eating In 4 Steps.
But basically, emotional eating is like having a hammer in your toolbox; super useful! But even better is to also have a wrench, a few screwdrivers, and a tape measure. That way you have more tools to navigate your daily life. These tools might represent connections with your friends, physical activity that you actually enjoy, and other forms of emotional self-care.
You're tired
Did you know that if you're not getting enough sleep, it changes what you crave the next day?
If you're feeling like a zombie because you were up all night, it is going to make you want different foods…probably carbs!
I explain this more fully here, Why Do Tiredness and Overeating Go Hand in Hand, but just know, this connection isn't a good thing or a bad thing – it's just predictable biology.
Notice how you're feeling and do what you can to get the right amount of rest. And on days that you're feeling tired, be gentle with your expectations about what you should and shouldn't eat. Treat yourself with kindness.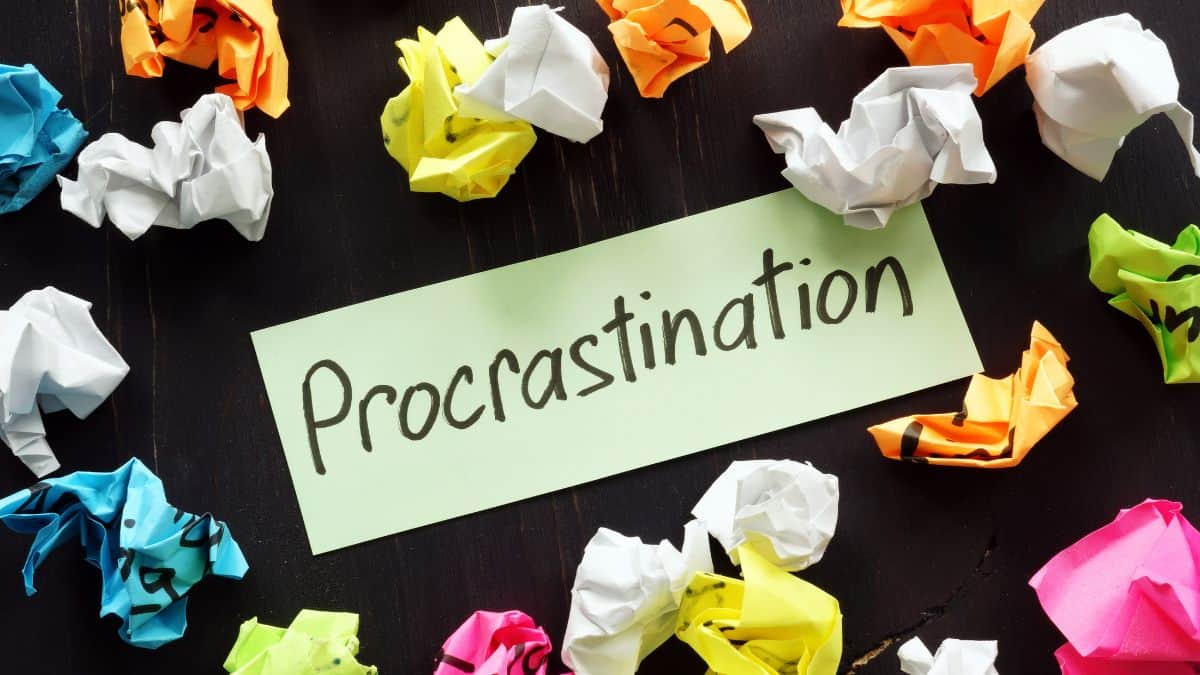 You're procrastinating
We don't like to feel uncomfortable…and so when we know something is going to feel that way, we can get hella creative in ways to avoid it. Laundry to fold? Let's do it. Snacks to enjoy? Let's dive in.
We might call this pro-crasti-snacking. Snacking to avoid that thing.
As with anything Intuitive Eating – there are no rules here. Sometimes we get to be patient with ourselves as we muster the courage to do the thing…and sometimes we need to give ourselves a gentle nudge forward.
As an entrepreneur, I do a lot of things that feel scary. What makes things feel just a little bit less scary is to come to these situations with more curiosity and less expectation or judgment. The more that I allow myself to be okay with making mistakes as I figure things out, and to be gentle with being a beginner, things are a lot more fun.
Am I "perfect"?
Nope.
Sometimes I get anxious and my self-talk isn't all that nice…but the more often I redirect to progress instead of perfection, the better I feel.
And friend, you can do hard things too. Step by step, with patience and mistakes along the way.
That's a wrap
I wish that eating wasn't so damn complicated for you. But I also know that diet culture makes things feel so hard: those restrictive diets are literally at war with your biology.
You deserve to feel nourished and satisfied after your meals, not hungry after eating. If you've felt outta control around food and confused as hell, know that you're not alone. I can help.
You deserve peace with your body and food freedom. I recommend starting with my Binge-Free Intuitive Eating meal plan; with this free guide, you'll learn how to plan meals that taste great and leave you feeling good in your body. Doesn't that sound like a nice change? 
1 Week Plan For Binge-Free Intuitive Eating
Can't skip tips & a non-diet-y meal plan to get you on your way to intuitive eating—without the endless binges!
After you download the meal plan, you'll get a personal invitation from me to you to join The SociEATy, my membership community for amazing women like you who are ready to feel at peace with food, their body, and with eating. You deserve it! The meal plan will give you a good sense of who I am as an Intuitive Eating dietitian and how I help my clients to find food freedom. That way, when your personal invite pops into your inbox, you'll be excited to take that next step and join. I can't wait!
XOXO
-Colleen