Are you wanting to learn more about anti-inflammatory foods through an intuitive eating lens without all of the dieting food rules?? Maybe you're feeling inflamed, tired or achy and don't know why. This blog post is for you, complete with your anti-inflammatory food list PDF.
>> Download your Anti-Inflammatory Food List PDF <<  
In this article, we'll explore anti-inflammatory foods that are super easy to find in your grocery store. The best part? You can download the PDF with all of these items on it so that you can take it shopping with you!
Quick note: this blog post is not meant to be used as a diet, or as a list of rigid rules. As an intuitive eating dietitian I'm all about something called "gentle nutrition"– where you take nutrition info into consideration but it's not the SOLE determinant of your food choices! There are many different foods, drinks and snacks that are anti-inflammatory; no need to force yourself to eat something that you don't like.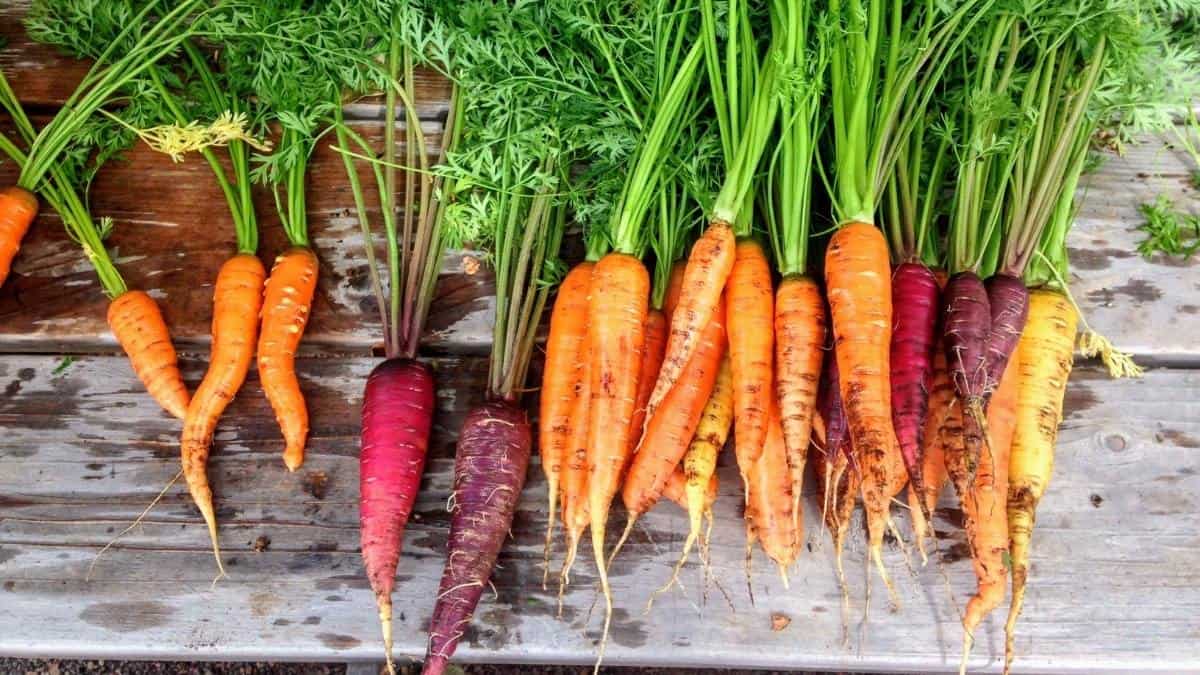 Quick recap: what is Intuitive Eating?
If you're new to Intuitive Eating – a warm welcome! Intuitive eating is about listening to your body's needs for food and honoring them. And as much as that sometimes sounds like "eat all junk foods 24/7," there is a lot more to it.
Intuitive Eating is about connecting with your body, your hunger and developing a balanced and respectful relationship with both. Sometimes you want fruit, sometimes you want cookies – both are perfectly okay.
The goal of intuitive eating, unlike diets, is not about manipulating our weight – it's much more than that! It's an approach to living in a way where you can feel good, be at peace with what you're doing and take care of yourself. It's about finding a balance between both mental and physical health!
You can explore Intuitive Eating further with this post: What Is Intuitive Eating? A Beginner's Guide.
With that, you may be wondering, does Intuitive Eating mesh well with anti-inflammatory foods? Yes! Intuitive Eating Anti-Inflammatory goals can work together well – let me show you how!
What is Inflammation?
You've likely heard this term before – inflammation – what is it exactly?
Inflammation is a normal response that the body has when it is hurt or irritated. This would be a response to an external agent like pollen (but not a co-worker), irritation from an injury, or as part of your natural immune system if you have bad bacteria trying to make you sick.
That said, inflammation can be both good and bad; it depends on how long the inflammation lasts. And if you're wondering: we'll talk more about how to know if you are inflamed in a little bit!
When your body is responding to an injury, inflammation is a perfectly safe and appropriate response. Your body needs to be able to defend herself against attack: and honestly, she's really good at it.
But if your dietary choices or lifestyle are causing your body to be in an inflammatory state for a long time, this is known as chronic inflammation. This is when inflammation becomes a problem because it can lead to chronic diseases and disorders.
Inflammation isn't just about pain – if you are feeling tired, worn-out or generally not your best self then chances are that what's going on with your diet could be making things worse!
P.S. Chronic stress is also a risk factor for chronic inflammation. So, if you're using an anti-inflammatory foods list to reduce inflammation, but you're stressing out about doing it "perfectly," you're shooting yourself in the foot. Exploring new foods with curiosity and without judgment is the way to go.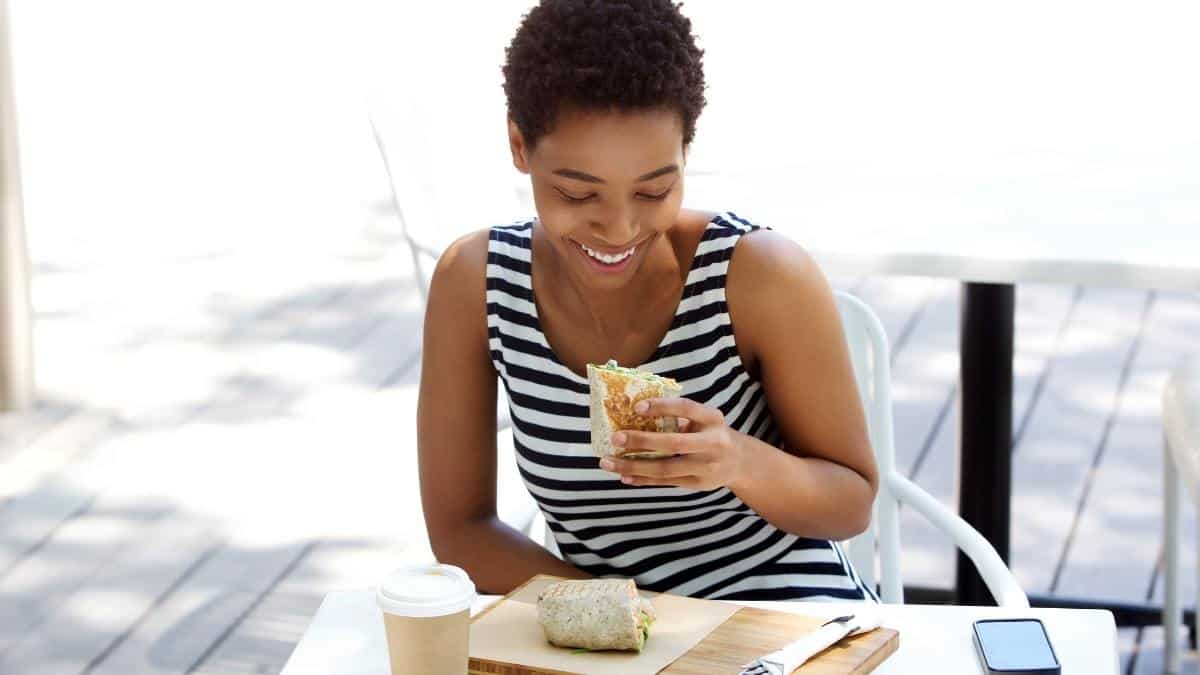 How does someone know if they have inflammation?
So…how do you know if you have inflammation? The signs can be subtle, actually. Mood swings, brain fog, aches and pains… that could be chronic inflammation at work.
You might also feel inflamed if you usually eat only a limited number of foods. Our digestive system works best (and we feel best) when we have a wide variety of foods, especially fruits and vegetables.
The best way to know is by taking an anti-inflammatory food list like this one for a spin! See how you feel with more anti-inflammatory foods throughout your week – fewer headaches? More energy? This list includes some of the most common anti-inflammatory foods.
In The SociEATy intuitive eating membership community, I teach how to use something called a "food and mood journal" to help you identify what feels good and what doesn't. This is a huge help for implementing gentle nutrition as an intuitive eater!
How to use this Anti-inflammatory food list PDF
The purpose of Intuitive Eating is to let go of food rules. But you can still work on eating in a way that nourishes your best energy, mood and mental focus. It's kind of like dating: you get to try new things and explore what makes you feel the very best. This anti-inflammatory food list PDF includes many different options of anti-inflammatory foods.
I would encourage you to peruse this list with curiosity. How does it feel to try new fruits or vegetables? How do you feel with more variety in your grocery cart? Is your packed lunch more appealing with a rainbow of colors inside? Which new flavors bring you joy and satisfaction?
But remember, if you don't like some of the anti-inflammatory foods on the list, please don't force yourself to eat them. There are a lot of ways to nourish yourself. Enjoying your meals is important, too.
>> Download your Anti-Inflammatory Food List PDF <<  
Which foods cause inflammation?
I'm going to go over some foods that can increase inflammation. But remember, all foods are allowed. Just because a food, drink or snack can cause inflammation does not mean you need to avoid it. Remember: data is just data – it isn't "good" or "bad."
But, knowing that these foods are potentially inflammatory, may provide you with a better understanding of how they make you feel after eating them.
Even so, sometimes they'll be the right choice to enjoy and I encourage you to do so.
On other days, it may feel better to focus on lower inflammation foods, which we'll cover many examples of in the next section.
Examples of foods that can cause inflammation:
Here are a few examples of foods that can cause inflammation. Why? For some, like the processed meats, I'm thinking about the preservatives that can change gut health a bit. Or in the case of sweet foods, like my dear doughnuts, they have added sugars which can spike insulin a bit. Not a "bad" thing but maybe not something our bodies feel best with happening on the regular, ya know?
Processed meats such as hot dogs, bacon, ham, sandwich meat
Deep fried foods like chips and french fries
Trans-fats which are found in fried foods and shelf-stable foods such as some cookies, shortening, and margarine
Refined sugar and other added sweeteners such as corn syrup, maple syrup, brown sugar and coconut sugar
Refined carbohydrates, such as muffins and doughnuts. Again, don't panic. I love doughnuts and eat them and have several recipes for you to make your own. This is simply saying that if you only ate doughnuts, you might not feel so great because they can be inflammatory.
Now, you may be wondering which foods to include to lower inflammation. Let's dive in!
What are foods that fight inflammation?
There are many options for foods, drinks and snacks to lower inflammation so I'm sure you're going to find examples of things on this list to enjoy. And if you don't like some of the suggestions – skip 'em!
Anti-inflammatory foods
Let's start with some examples of anti-inflammatory foods. The fun thing is that this involves eating the rainbow! They say that we eat with our eyes first, so having a rainbow of colors at our meals can really contribute to a satisfying experience.
A lot of what gives fruits and veggies their color, taste and smell are something called phytochemicals. These are compounds in plants that boost our health and lower inflammation but they are not vitamins or minerals: they're a completely different category.
Berries
What do blueberries, raspberries, blackberries and strawberries have in common? They're all rich in antioxidants! Try fresh berries as a side dish or salad topping, frozen berries as a smoothie boost or even a handful of frozen berries as a cooling snack.
Anti-inflammatory power duo: Spinach Blueberry Salad With Candied Cashews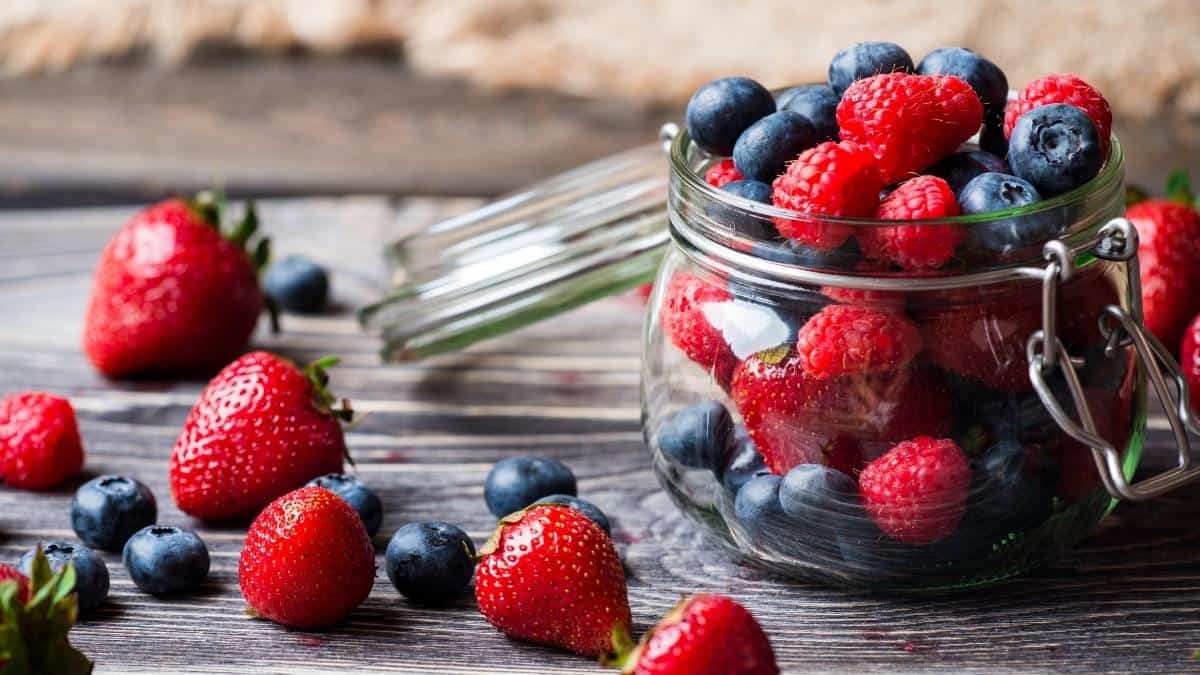 Dark leafy greens
Whether you love a crunchy salad or think sauteed spinach in your burrito is delish, you can't go wrong with leafy greens. Kale, arugula, spinach, romaine lettuce and swiss chard all count. Explore different kinds, both raw and cooked, and see which ones you love the most. You might have a surprising new favorite.
Ready to try a new recipe? Check out my Goat Cheese, Pear & Kale Salad.
Cruciferous vegetables like broccoli and cauliflower
I know, I know, cauliflower sure is trendy. But if you like it, it is also an antioxidant powerhouse. Cruciferous veggies also include kale, brussels sprouts, broccolini (broccoli's cooler cousin), bok choy and cabbage.
Need a simple weeknight dinner? Try my Easiest Broccoli Chicken Stir Fry.
Dark chocolate
This is not a joke: dark chocolate has antioxidant properties! It's also delicious – but I don't need to tell you that! Enjoy some dark chocolate chips in your afternoon trail mix or to top your morning pancakes. Or add cocoa to your favorite strawberry smoothie recipe!
I also think you might want to check out my recipe for Double Chocolate Buckwheat Banana Muffins because they have both cocoa and chocolate chips – double yum!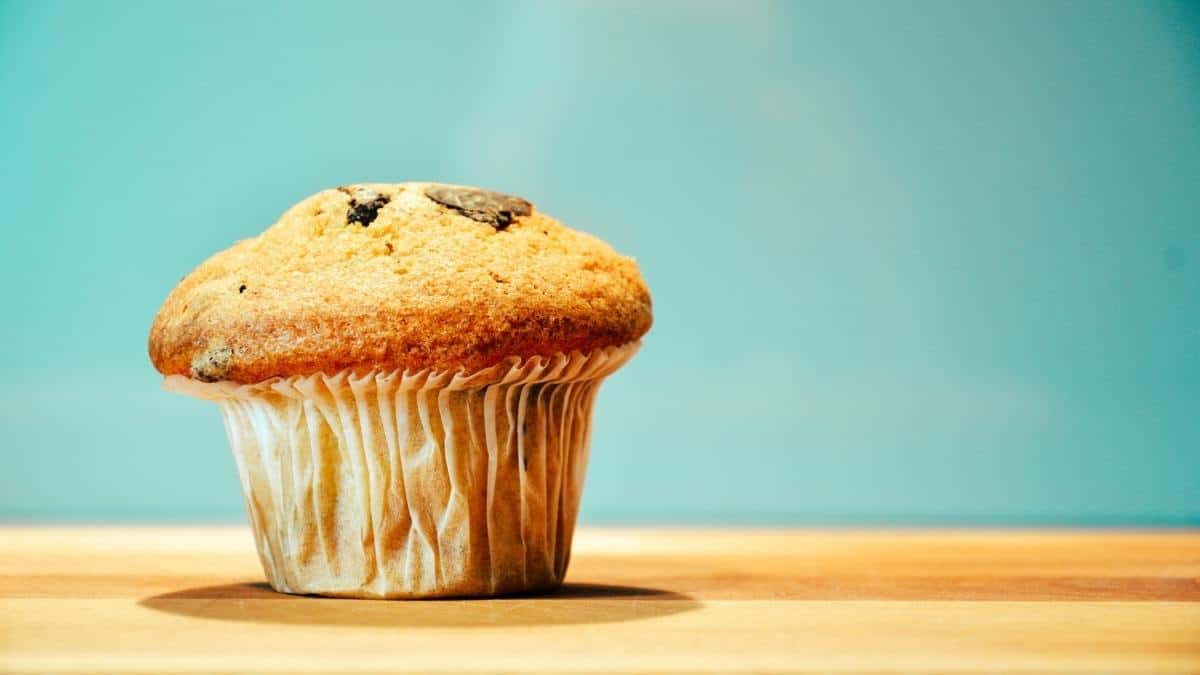 Olive oil
What is your go-to oil in the kitchen? If it isn't already olive oil you might want to make the swap. Virgin olive oil has several compounds that have potent anti-inflammatory actions.
Fatty fish
Salmon has a healthy reputation and honestly, it has earned it. All cold-water fish (also called fatty fish) are rich in omega-3 fatty acids. Salmon can be a great thing to stock up on and keep in the freezer.
And if fillets are feeling a bit pricey for your grocery budget, try canned salmon for a quick dinner of salmon cakes. You can personalize the flavor (with added herbs and spices – see next section for more details) and save money at the grocery store. Win!
Herbs and spices
Remember how we talked about phytochemicals giving plants their flavor and aroma? Same applies with herbs and spices. And let me tell you, adding herbs and flavor not only boosts the anti-inflammatory properties of your meals, snacks and drinks, your eating experience is much more pleasurable. Take my Aloha Chicken Veggie Wraps With Soy Ginger Dipping Sauce recipe for a spin and your packed lunches will never be the same.
Orange fruits and veggies
From butternut squash to carrots, sweet potatoes to cantaloupe, these foods have one phytochemical in common: beta-carotene!
Anti-inflammatory drinks
Can you drink something and lower your inflammation? Yes! A few options to consider are:
Green tea
Green tea is rich in anti-inflammatory catechins and polyphenols. Try freshly brewed green tea as part of your soothing morning routine or some homemade iced green tea as an afternoon pick me up.
Turmeric milk
Have you heard of a turmeric milk latte? It is a hot, decaf drink made with frothed milk, turmeric, ginger and a pinch of black pepper. Pepper helps our body to absorb the active compounds in turmeric a bit better. Feel free to add a bit of honey and cinnamon to flavor your latte.
Turmeric is a powerful anti-inflammatory spice. Not into lattes? Get the same benefit with my Baked Turmeric Chicken Tenders.
Grape juice
Whether you prefer snacking on red grapes, raisins or enjoying a glass of 100% concord grape juice, you're benefiting from an antioxidant called resveratrol. Yes, resveratrol is also found in red wine 😉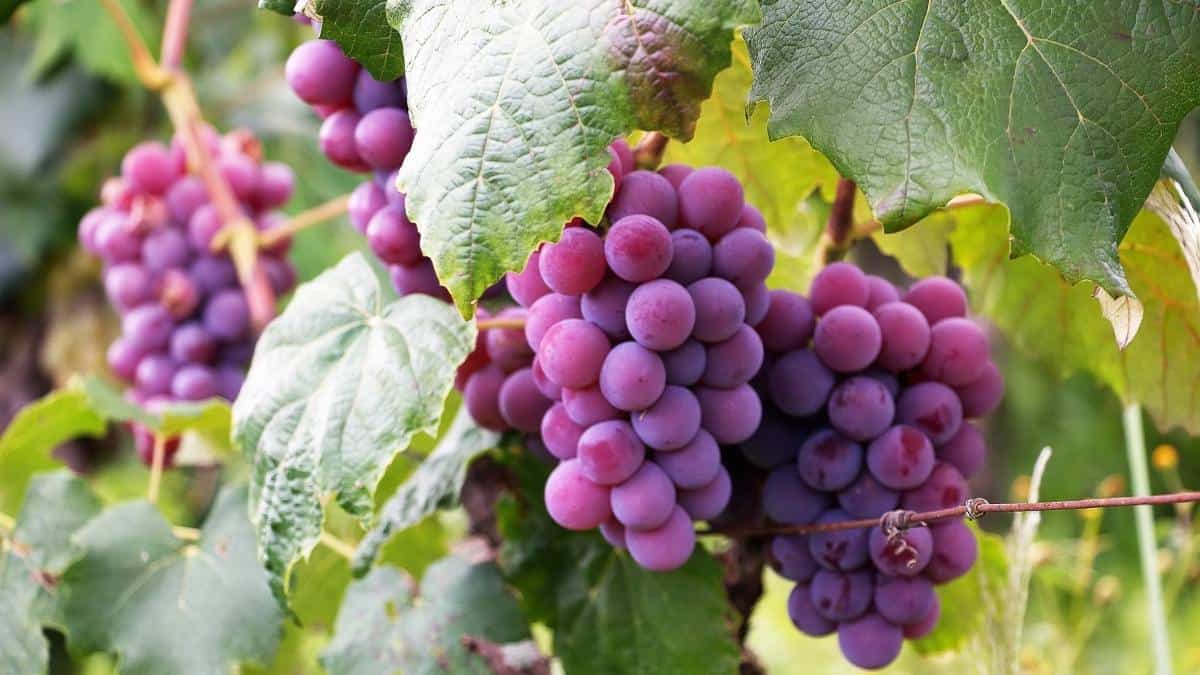 Anti-inflammatory snacks
What about at snack time: can you reduce inflammation on the go and from your purse? You sure can! Here are some examples of portable snacks to reduce inflammation:
Apple slices with almond butter
Sometimes simple is best! Apple slices hold up well to travel and make for a filling, tasty snack when paired with your favorite nut butter. Feeling fancy? Toss in a few chocolate chips.
Carrot sticks, cucumbers and celery sticks dipped in tzatziki sauce or hummus.
Not only is hummus a high-fiber dip it is also a rich source of heart-healthy olive oil. Veggies sure are a healthy snack, but they're not very filling. Pairing a veggie or fruit with something else helps your snacks to be more well-rounded in the nutrition department.
Broccoli
Tired of carrot sticks? Mix things up with different raw veggies. Bell pepper slices today, cucumbers tomorrow. Eat the rainbow with a variety of veggies!
Nuts and seeds
Not only are nuts and seeds incredibly portable and can withstand the most rigorous commute, they're also tasty and full of compounds to lower inflammation.
Which is best? A variety! Try almonds one day, brazil nuts the next. Or, make your own personalized, perfect, trail mix with nuts, seeds and your favorite dried fruits. Don't forget the chocolate!
And if you're more into almond butter and crunching on almonds, try my Almond Butter Twice Baked Sweet Potatoes for a breakfast sometime soon. Not only are you getting the benefits of the almonds, you're getting a beta-carotene boost from the sweet potatoes!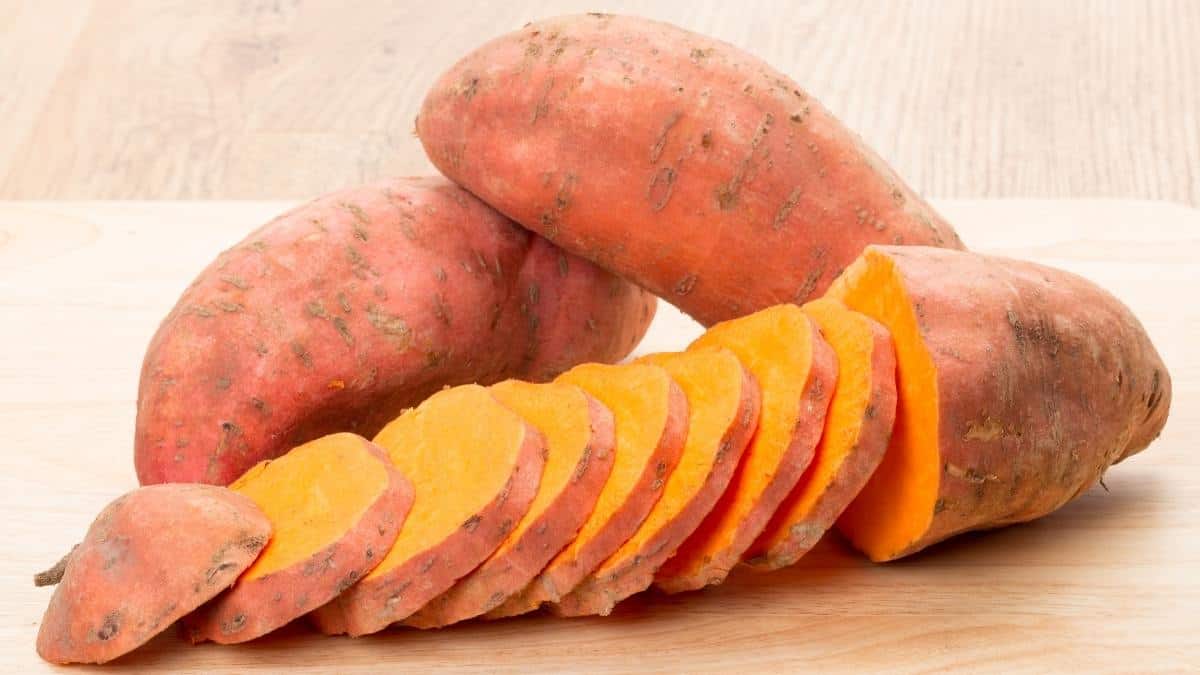 Key Messages from our Anti-inflammatory food list PDF
Eating offers us many opportunities: to take a break from the daily grind, to nourish our body and respect her needs, to fuel our curiosity and to reduce inflammation.
>> Download your Anti-Inflammatory Food List PDF <<  
Using an Anti-inflammatory food list PDF is like a passport: you don't have to visit any country that isn't of interest, but there sure are a lot of places to explore! As an intuitive eater, approaching new foods with curiosity, not rules, helps us to stay on track with avoiding rigid rules or diets.
What are the main takeaways from the Anti-inflammatory food list PDF?
Aim for a variety of foods throughout the week
Add herbs and spices for flavor and to reduce inflammation
A rainbow of colors of fruits and vegetables
Swap some of your usual chicken or beef dinners for ones with fatty fish, such as salmon
Where will you explore next?
Next Steps
With endless dieting messages filling up your social media feed, it can feel a bit lonely getting started with Intuitive Eating. This is why I created The SociEATy to provide others with the supportive community and guidance that I didn't have. You're invited! Learn to enjoy your foods, including anti-inflammatory foods, while on your journey of Intuitive Eating.
Other Blog Posts You Might Like:
XOXO
-Colleen