It's the time of year when many people are starting diets and hoping to lose weight. But what if you're doing everything "right" and still not seeing results? You may be wondering why this is happening, and whether or not it's even possible to lose weight in a calorie deficit.
In this blog post, we'll talk about why weight loss isn't simply a matter of eating fewer calories, and why aiming for weight loss can actually have some major drawbacks. We'll also discuss what healthy really means, and how you can work towards achieving that goal!
First time here? A warm welcome to you! I am a Midwest dietitian working hard to free women from diet culture so that you can live your best memory-making life with food freedom. I'm an Intuitive Eating dietitian, which I believe is your absolute best way to achieve true health (and we have the research to back it up). Diets and scales can take a hike!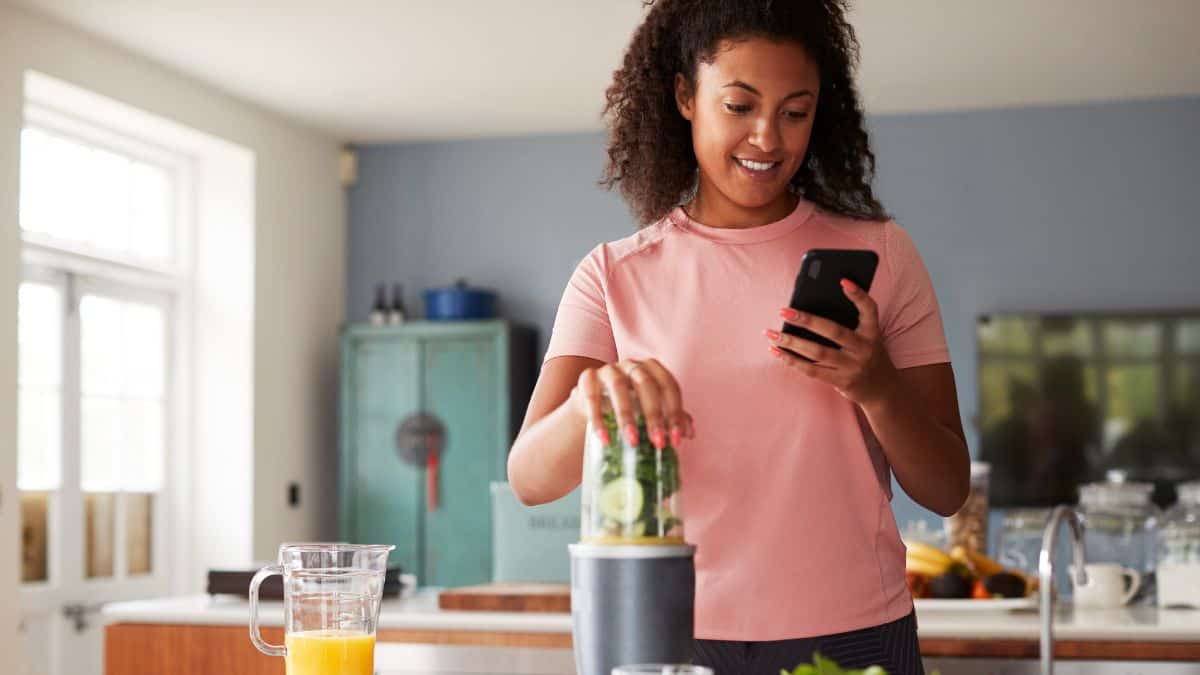 If you're like many of my clients (and my own past self), it can seem tantalizingly simple: just eat fewer calories, bump up the exercise and the weight should magically fall off.
And yet: it doesn't.
Or it does, for a brief time, and then you plateau…and it comes back.
…And you feel like a failure.
Why does this diet or that program seem to be working for everyone else…but not you?
If you've ever felt like this, let me first say that this yo-yo weight cycling is not your failure, it is diet culture BS.
Weight loss isn't simple.
And this may totally shock you – since I'm a dietitian – but I don't actually recommend weight loss being your goal at all (I know, right?). I'll explain everything.
First off: a bit of biology. Why isn't the weight going down with fewer calories to begin with?
Why am I not losing weight in a calorie deficit?
So many of us think (and that used to include me), that weight is sooo simple. Calculate the calories you need in a day, subtract a few hundred to create a deficit and then wham-bam-thank-you-ma'am: weight loss.
There are a lot of reasons that this magical thinking isn't actually true. Let's dive in!
You're not a robot
As much as dietitians love to use mathematical equations to estimate how many calories you need in a day, they're just that: a guess. And not a very accurate one at that. And apps that use these equations are no better. The app doesn't know your life! Any estimate might not be what you actually need.
For one, you're not a robot. You don't burn the same amount of calories each day. And why would you? You might be more active on some days, sleep less on others or maybe you just have a higher or lower metabolism than someone else.
Your metabolism – the amount of energy that keeps your beautiful self functioning throughout each day – is adaptable. If you suddenly start eating a lot less (like when you diet), your body thinks – danger! – and begins to slow your metabolism down in order to preserve energy. This is your body working hard to keep you alive during times of famine.
Plus – your ability to accurately track your servings, calories, and points from what you eat is also an estimate. Hint: we're not that great at these estimates.
So, to recap, those fancy math equations aren't all that helpful because what you need in a day is a moving target. They're an estimate, at best.
In combo, we are not all that great at estimating food servings to accurately calculate how many calories we're eating. Nor are fitness machines estimating how many calories you burn during your workout.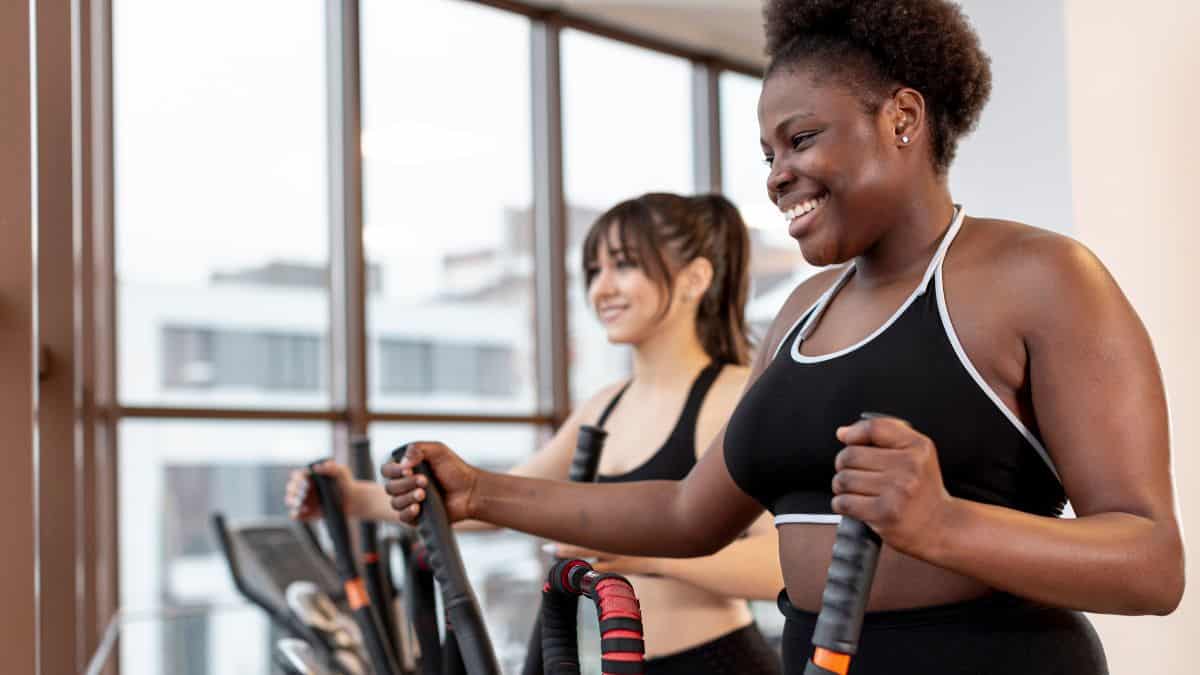 So, basically, we're working with a rough estimate of how many calories you need, a poor estimate of how many calories you're eating combined with an inaccurate estimate of how many calories you're burning in your workouts.
Whew.
And that's not all: chronic dieting can actually harm your metabolism. So, that estimate baseline of what you're burning in a day changes. But, it is repairable. I walk you through how to do that right here: 3 Steps To Fix A Damaged Metabolism.
Willpower isn't a thing
We think that we can just follow the plan…it's easy, right? Just count those calories, budget your points, and meal prep…and maybe it's okay for a while…but then you begin to lose steam. You're tired of being at a restaurant with friends and missing out on the conversation and juicy gossip because you're trying to track your macros.
Or you're not able to enjoy your date because you're worried about the run you're going to have to do tomorrow in order to burn off the burger you ordered (but didn't actually enjoy with the side of guilt). That used to be me. Life is way different now with Intuitive Eating – eating out is fun! I cover that change in this blog post: Why Is It So Hard for Me to Eat at Restaurants? Tips to Calm Anxiety About Dining Out.
Exclusive SociEATy member content:
When we feel deprived (and all diets make us feel deprived eventually), we will rebel. Having deprivation around food – no matter how well intended – causes stress, spikes cortisol, and makes those "not allowed" foods seem ever more enticing.
As much as influencers and coaches want to lean into your willpower, I believe that willpower isn't really a thing. This is your body crying out saying it needs more food. If you try to thwart your body's need for fuel, your body will get louder and louder to get your attention. Your body might make you feel extremely hungry. I go over that in full detail, right here: The Truth About Extreme Hunger.
And just like willpower isn't really a thing, neither is cheating. Let's explore that.
You're "cheating"
Some folks might say that you're not losing weight because you're "cheating". I strongly disagree.
"Cheating" isn't a thing.
The only thing that would make eating a crime is if you stole the food you're eating.
So if you paid for your groceries fair and square, there is no cheating.
When you try to lose weight quickly by slashing calories, you end up feeling deprived – no fun!
This deprivation can lead to intense cravings and eventually binge eating. Being "good" all day and then at night or on the weekends your "willpower" goes away and you binge eat or have a "cheat" day or meal.
If binge eating is something that you're struggling with, please know that
1) you're not alone and
2) it is not your fault
I explain everything, right here: Why Binge Eating Happens: The 2 Types.
Stress management
Think your emotional eating is what's causing you to not lose weight in a calorie deficit? Here's another bold statement that may surprise you: you're allowed to use food for comfort, i.e., emotional eating is a-okay. Your Go-To Guide for All Things Emotional Eating.
Here's the catch: I don't recommend emotional eating being your only coping mechanism. If you're only coping with stress by emotional eating, then I can help you to expand your toolbox with a few more options.
If you have a plan for managing stress that includes both food and non-food coping mechanisms (like exercise, journaling, talking to a friend, etc.), then emotional eating can be part of your plan.
For more tips and strategies to take care of yourself, check out my blog post on emotional self-care.
The goal here is to be able to work through big feelings and big emotions in a way that feels constructive. No shame or guilt, please, and thank you.
Food isn't moral
If you're like me, sometimes you feel good accomplishing something. You're "good" and so you get a gold star. Instant morale boost.
Here's the thing: food isn't moral. So if you think you're not losing weight because you're eating "bad", think again.
You can't be "good" or "bad" based on what you ate.
What you ate doesn't make you a good person or a bad person.
It's not an accomplishment to go without food. And it's not a failure to eat when you're hungry. Nor is it "bad" to eat comforting food when you've had a bad day. Or to eat No Churn Coffee Crumble Ice Cream simply because you feel like it.
When you see food this way, as "good" and "bad" you're actually setting yourself up to eat more of the foods you're deeming as "bad". One study showed that dieters (those who would deem a milkshake "bad" or say that can only have so much) drank more of a milkshake VS non-dieters in the same setting. Just from their perception of it- nothing else changed!
It is a good thing to pursue health; diets and labeling food as "good" or "bad" just isn't the best way to get there.
Weight loss doesn't last
You didn't fail the diet. The diet failed you, gorgeous. No matter what diets promise, they are almost never making a promise that they can keep. Whether it is Herbalife, IIFYM, Shakeology, or Weight Watchers, they just can't keep their weight loss promises long-term.
Even if they have testimonials or research studies saying that their plan can promote weight loss, the scientific studies that we have about weight loss show that the diet results just won't last. And while diet culture likes to blame you for "failing" (lies!), the truth is that we just don't have plans that keep weight off long-term through restrictive diets.
And meanwhile, we do know that diets have the potential to have real, lasting harm. What Is Chronic Dieting…and Should You Stop?
In contrast, learning to eat intuitively offers true health benefits (more on those in a moment). You learn to listen to your body and feed yourself the amount you need, based on your own daily hunger, fullness, and satisfaction cues. By doing this you'll find the weight where your body feels best and functions optimally at.
Weight isn't a measure of health
I'm dropping truth bombs left and right in this blog post. Ready for the next one? Your weight is not a direct measure of your health.
Say what?
Even though everyone from your Aunt Tina to your doctor would have you believe that you need to weigh a certain amount to be healthy, it isn't actually true.
What actually measures your health are things like eating vegetables, managing stress, and moving your body in a way that feels good, i.e., health is a measure of your behaviors. And also a lot of it, like 35-55%, is based on your social determinants of health like oppression, marginalization, financial stability, access to healthcare and social setting to name a few.
Focusing on weight loss is missing the goal in your health pursuit.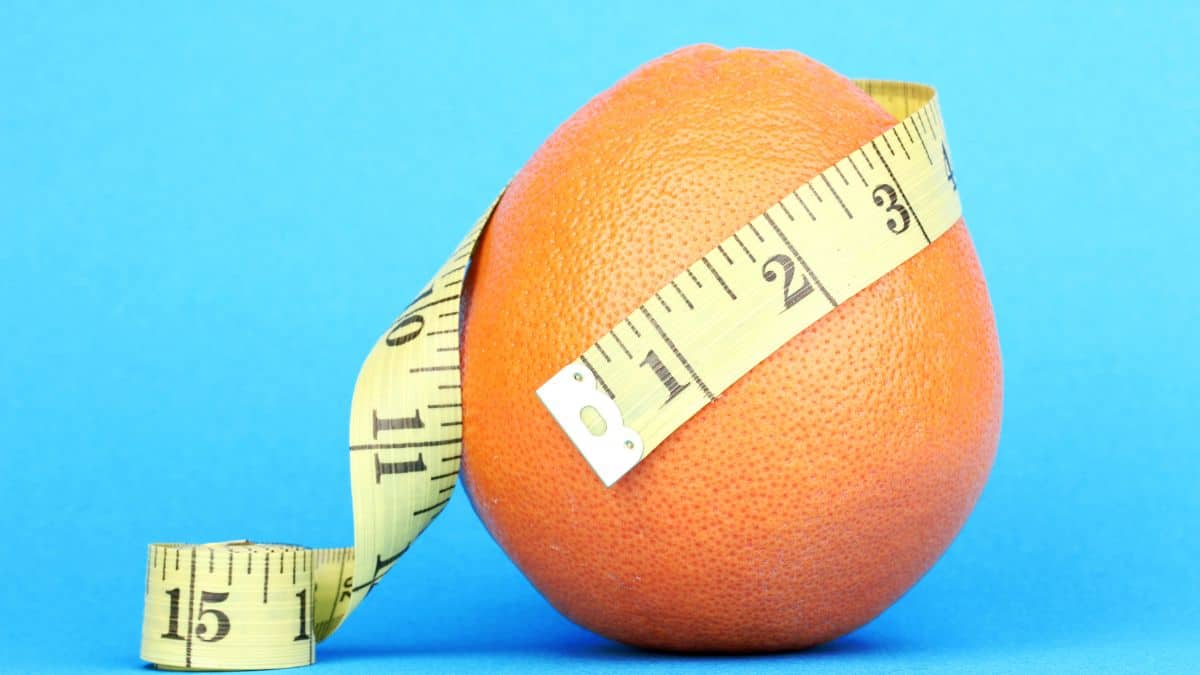 We can't decide our weight
What would you think if a friend of yours, who has always worn a size 8 shoe, suddenly decided that she was going to become a size seven? Through wishful thinking, "corrective" shoes, and magical socks, she thought she would be able to shave an entire shoe size off of the feet she was born with.
Bananas, right? Let Cinderella be a lesson to us on this one.
Or what about a friend – who is 5'5" – who said that this was the year that she was going to grow to 5'10"…without new shoes.
As bonkers as those two examples seem, it should feel just as nutty to say that I am now going to weigh a certain number of pounds.
Your weight is determined by so. many. things. Your weight, just like your health, is highly influenced by your genes, your habits (what you eat, your physical activity) and so many other things like health conditions (PCOS, etc), your environment (such as access to a grocery store), and the medications you take.
You can't just rewire the blueprints that nature gave you.
While it is certainly possible to influence your weight, if the number isn't actually the best for your genetic blueprint, your body is going to work to get back to the place that is. The best weight for you is called your set-point weight.
​​Set Point Weight Theory: What It Is & How To Find It. You can think of your set point weight more like your shoe size; you're not going to be able to change it – long term – without risking physical and emotional harm.
That's why I don't actually recommend having weight loss be your goal at all. (But – quick note –- that doesn't mean we are abandoning health. Keep on reading, friend, and I'll explain).
Weight loss shouldn't be the goal, to begin with
As much as our society makes us think we can just pick our weight… we can't. And trying to fight that and get our bodies to a size that they don't want to be will just backfire and cause weight gain.
Your body is constantly changing.
Every day, your weight will naturally fluctuate based on things like how much water you're retaining, hormones, how recently you ate, and even things like stress levels and when you went to the bathroom last.
I used to check my weight daily. Even multiple times per day. In my mind, it was about health. In retrospect, it was actually about getting a sense of control at a time in my life when I felt extremely overwhelmed, anxious, and outta control.
What does health really mean and how can we measure it?
Quite possibly the most common question I get about intuitive eating is if you'll gain weight. You might. You might not. You might lose weight or your weight might be the same.
Your body has a natural range of pounds at which you feel good, both mentally and physically. This is what we talked about earlier, your set point weight.
Even though I'm a dietitian, I cannot predict what your set point will be. Through the process of Intuitive Eating, you'll find your set point weight. Your brain and body will feel nourished and energized and your mind will feel clear of the diet clutter that used to take up too much mental space.
Make room for memories. Make room for fun.
And: make room for real health.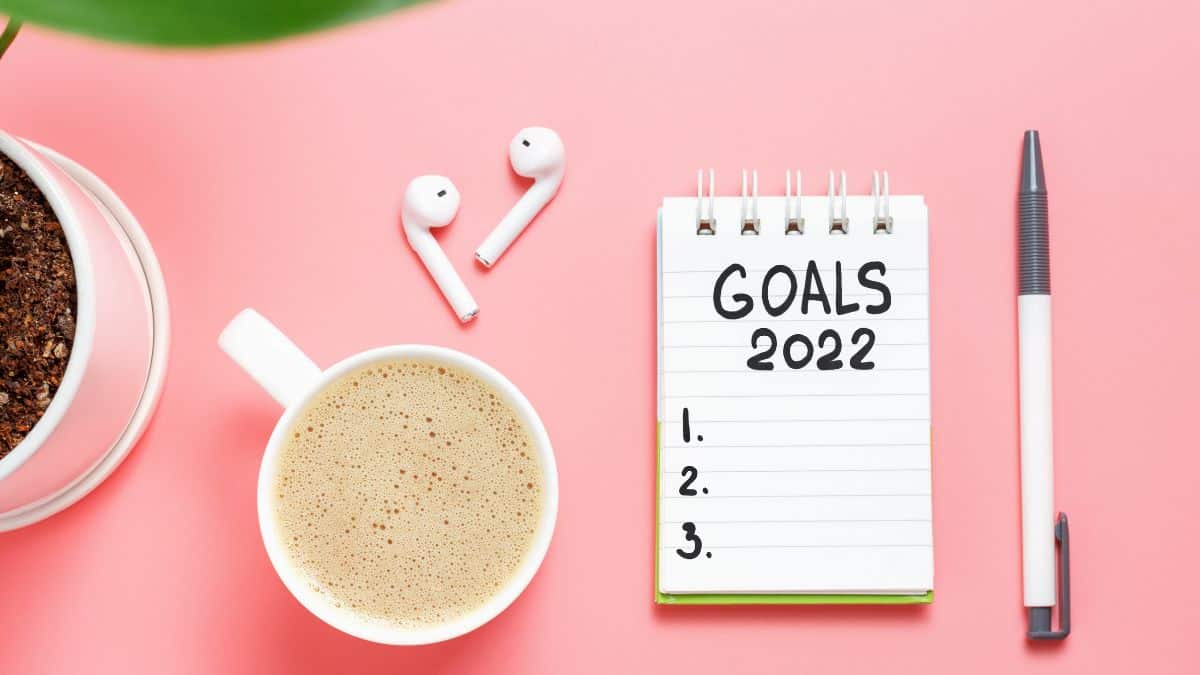 Intuitive Eating boosts real health
I love vegetables. I love fiber. And I do take vitamins. I am interested in being healthy, I just know that the number on the scale isn't the path that is gonna get me there.
And it isn't the path forward for you, either.
Real health is measured in a lot of different ways. Your weight isn't one of 'em.
I encourage you to take the focus off of your weight because eventually, it'll backfire both mentally & physically.
I also know that this is far easier said than done. It takes practice, guidance, and community. That is why I made the SociEATy to help women just like you find lasting health, joy, and memories – you deserve it, and you don't have to do it alone.
There are so many myths about Intuitive Eating…isn't it just about eating doughnuts all day and saying FU to diets? No, actually. Intuitive Eating is about developing a positive relationship with your body, and your eating, and getting rid of food rules and limits. It makes the space for your body to let you know when it needs fun foods for comfort and nourishing foods for energy. Your body is hella smart when you learn to listen, instead of trying to micromanage and silence her cues.
You will also not have the urge to overeat. When all foods are allowed, and you trust that you can have them again there is no desire to eat past fullness. Why make yourself feel like poo? You can eat this again when it'll feel better (permission is the secret sauce to "control" around food!)
I love science and data. I have a whole lot more info about IE and the real health benefits rounded up in this post: Tell Me the Truth: Is Intuitive Eating Healthy?
Key takeaways:
The calories you eat in a day are just one small factor in what you weigh. And you can't actually just decide what you want to weigh and sabotage your actual biology to get there.
And if you've gotten this far in the post: you now know that weight loss isn't the right way to pressure real health at all.
Letting go of the desire for weight loss can feel so effing scary when weight loss has been at the top of your list for months or even years. I have an entire guide about weight and Intuitive Eating and the full science-scoop about it. Check it out: The Weight Gain Guide for Intuitive Eaters.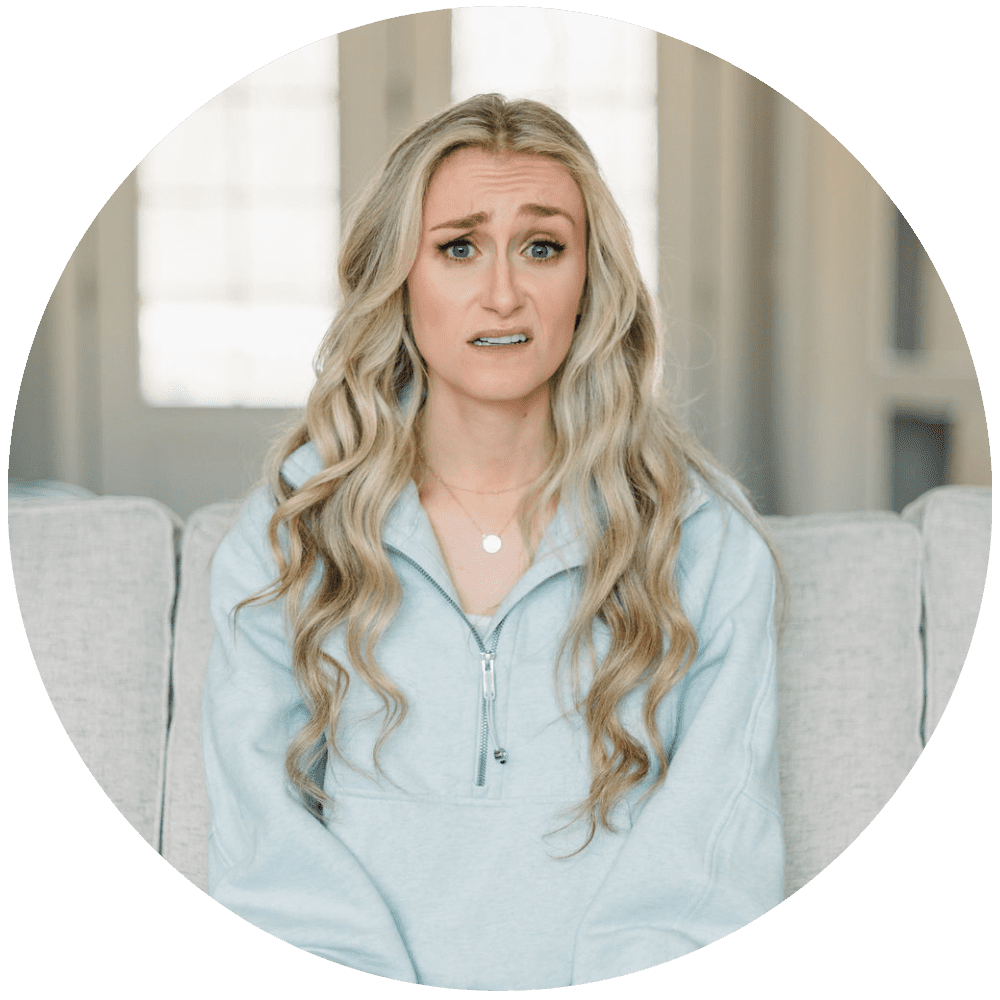 Intuitive eating sounds great but…won't I just gain weight?!
Find out what might happen to your weight when you get rid of your food rules, the research behind Intuitive Eating, and why if your goal is long-term health, breaking up with diets is the way to go.
But the big picture: micromanaging your weight is not the path to true lasting health (or a joyful life, to be honest).
Learning to eat intuitively is an app-free, tracking-free way to peacefully find your best weight and cultivate lasting health. With Intuitive Eating, you learn to listen to your body and feed it the amount it needs. No calorie counting, no rules.
XOXO
-Colleen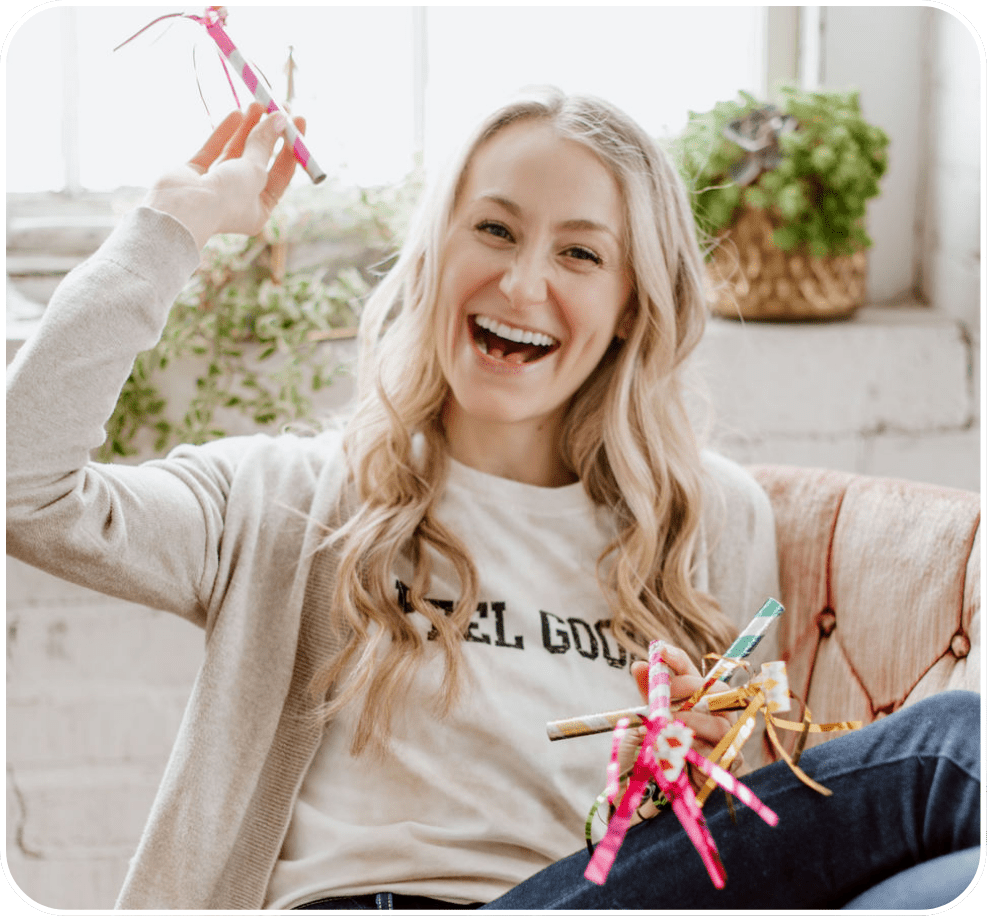 The SociEATy is your Anti-Diet safety net! Diet culture is appealing because of the community, structure, and goals. So it MAKES SENSE that it's hard to leave behind. I created the SociEATy—the community that actually EATs!—with all the GOOD things dieting has to offer baked in. So you don't have to free-fall into this new way of life!